$275K for VSU interim president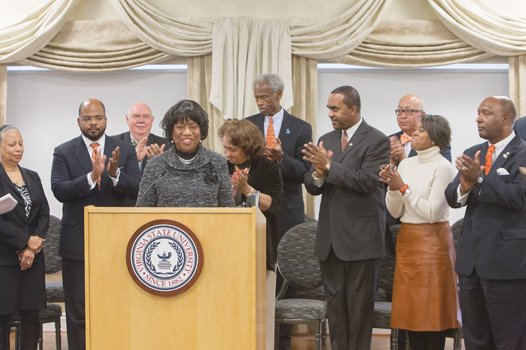 Dr. Pamela V. (for Valleria) Hammond is ready to jump into her new role as interim president of struggling Virginia State University.
"My commitment, my dedication, my life will be Virginia State University," Dr. Hammond pledged.
The 62-year-old provost of Hampton University made the promise last week after being tapped as the first woman to lead the 132-year-old historically black public institution that has been hit hard by shrinking enrollment and a $19 million revenue shortfall.
As the Free Press first reported, the board of visitors hired Dr. Hammond on Nov. 13 to be the temporary replacement for embattled president, Dr. Keith T. Miller, who agreed to resign amid financial turmoil that has generated student protests and alumni concern.
Students who had pushed for Dr. Miller's ouster expressed delight with the choice of Dr. Hammond.

"I am excited. The ball is definitely rolling, and it's rolling in the right direction," VSU junior Lamarcus Wise said.
Dr. Hammond is expected to leave her post as Hampton's chief academic officer on Nov. 30, and, under an arrangement with the VSU board, to start work in early December as a consultant in an effort to create a smooth transition.
She officially will take over the president's office Jan. 1, a day after Dr. Miller, 59, leaves. She will be in charge of a university with a $163 million annual budget.
The big challenge will be to increase VSU's enrollment, which dropped this year to under 5,000 undergraduate and graduate students. It is down more than 1,200 students from the peak of 6,200 students in 2012.
The board is hoping Dr. Hammond can provide a cure for what ails the school during the board's national search for Dr. Miller's permanent replacement. She will be a prospect to become the 14th president, said board Rector Harry Black, who is the city manager in Cincinnati.
Her selection as interim president was an easy one, Mr. Black said, noting the depth and breadth of her "knowledge in academic leadership, administration, development and strategic planning processes."
A nurse by training who once taught nursing students and headed Hampton's School of Nursing, "Dr. Hammond brings to VSU a nurse's compassion along with the pragmatism of a seasoned academician and administrator," Mr. Black said.
Dr. Hammond exuded confidence in accepting the post and indicated her top priority will be to restore confidence in VSU.

She promised to communicate with students, alumni and potential donors with "clarity and consistency. We will communicate with our constituencies at each step. We cannot expect buy-in of our plan from our community if we do not offer input into that plan."
She also promised to meet with students who had led protests against the cutbacks the Miller administration installed to deal with the plunge in revenues.
"We must be assertive in recruiting outstanding students and equally as assertive in providing the academic, social and financial support necessary to ensure their success," she said.
Dr. Hammond has accepted an initial annual salary of $275,000, according to VSU. That's about $25,000 more than her compensation as provost at Hampton University. The VSU board also agreed to provide a $3,000 monthly housing allowance and a $1,000 a month car allowance to Dr. Hammond, who currently makes her home in Hampton with her husband, Gary John Hammond.
Her compensation will be far less than that of Dr. Miller, who is leaving with two and a half years left on his contract. Dr. Miller was being paid $356,524 a year, plus other benefits. He is to receive a year's salary and could return as a tenured faculty member if he chooses.
Dr. Hammond has served as provost at Hampton University since 2009. She has been responsible for the academic programs offered to the 5,500 students. As part of her work, she has oversight of Hampton's 350 faculty members in eight schools as well as other academic operations.

In addition to administering a $35 million academic budget at Hampton, Dr. Hammond is credited with leading efforts to boost faculty applications for research grants and for coordinating the school's long-range planning activities.
Dr. Hammond earned her bachelor's degree in nursing from Tuskegee University, a master's of science in maternal-child nursing from the University of Maryland-Baltimore and a doctorate in urban services, with a concentration in educational leadership and health care administration, from Old Dominion University.