Area players helped teams to NBA Finals
6/12/2015, 9:27 a.m. | Updated on 6/12/2015, noon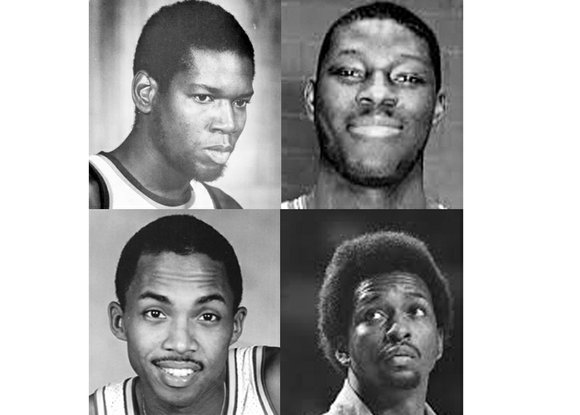 Area fans have no local favorite playing in this year's Cleveland — Golden State NBA Finals.
But that hasn't always been the case.
Four area players have helped their teams win a total of seven NBA titles between 1971 and 2004. Plus two others reached the finals before their teams lost.
Here is some hoops history reviewing how Central Virginia athletes left their imprint on basketball's brightest stage:
THE CHAMPIONS
Bobby Dandridge (Maggie L. Walker High School, Norfolk State University)
1971, Milwaukee Bucks: In his second NBA season, wearing the No. 10 jersey which is now retired by the Bucks, the 6-foot-6 forward known as "Greyhound" helps the expansion team Bucks rout Baltimore 4-0 in the finals. Teammates include Lew Alcindor (now Kareem Abdul-Jabbar) and Oscar Robertson. Dandridge averages 19.2 points, 9.6 rebounds and 3.4 assists in the playoffs.
1978, Washington Bullets: Again, "Bobby D" is brilliant as the Bullets defeat Seattle in the seven-game final. Playing with future Hall of Famers Wes Unseld and Elvin Hayes, Dandridge averages 19.4 points, 5.9 rebounds and 3.6 assists in playoffs. Dandridge pours in 34 points in Game 2 of the finals.
Gerald Henderson (Huguenot High School, Virginia Commonwealth University)
1981, Boston Celtics: The Celtics beat the Moses Malone-led Houston Rockets 4-2. Surrounded by luminaries Larry Bird, Kevin McHale and Robert Parish, Henderson is the key man off the bench, averaging 5.8 points and 1.6 assists in 14 minutes per game during the playoffs.
1984, Boston: Henderson plays a larger role as the Celtics nip the Lakers 4-3. The Richmonder averages 12.5 points, 4.2 assists and 26.8 playoff minutes. His steal of a James Worthy pass and resulting basket in the closing seconds of regulation play forces overtime. The Celtics win Game 2 in overtime. 
1990, Detroit Pistons: The Pistons trounce Portland 4-2 with Isaiah Thomas earning MVP and Dennis Rodman emerging as a star. Henderson, who was traded from Milwaukee to Detroit earlier in the season, has a reduced role off the bench.
Moses Malone (Petersburg High School)
1983, Philadelphia 76ers: Highlighting a brilliant career, Malone is MVP as the Sixers sweep the Lakers 4-0. Malone averaages 26 points and 15.8 rebounds for the playoffs and issues a prediction that Philly will sweep each series 4-0. He is nearly correct as the Sixers go 12-1 in three series.
Ben Wallace (Virginia Union University)
2004, Detroit Pistons: The Pistons blitz the Lakers 4-1. Going head to head with the Lakers' much taller Shaquille O'Neal, Wallace averages 10.3 points, 14.3 rebounds and 2.4 blocked shots. For each of his baskets or blocked shots at Detroit's Palace of Auburn Hills, the public address plays a deep chime, similar to the sound of London's Big Ben.  
The runners-up
Charles Oakley (Virginia Union University)
1994, New York Knicks: Houston nips the Knicks 4-3, but Oakley averages 13.2 points and 11.7 rebounds in 25 playoff games.
Mark West (Petersburg High School, Old Dominion University)
1993, Phoenix Suns: The Suns, with Charles Barkley, fall to Chicago 4-2, as Michael Jordan averages 41 points. West averages 4.8 points and 4.1 rebounds in the playoffs.