Richmonders show unity, seek healing at area vigils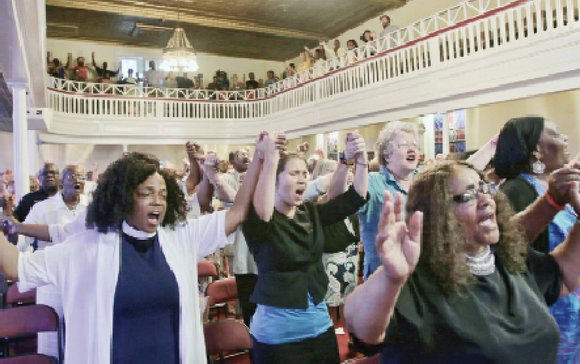 More than 200 people from Richmond and beyond packed the sanctuary floor and balcony last Friday evening at Third Street Bethel AME Church in Downtown at a unity rally to honor the South Carolina shooting victims.
At one point, they stood side by side — black and white, young and old — singing "We Shall Overcome" as they held hands lifted upward, swaying from side to side, to convey the message that love is stronger than hate.
They gathered in the wake of the June 17 killings of nine African-American worshippers during a Bible study at historic Emanuel African Methodist Episcopal Church in Charleston S.C., by a lone white gunman.
"Even though evil had its way, evil will not win," declared the Rev. Reuben Boyd, pastor at Third Street Bethel.
The unity service was one of a half-dozen vigils held around Richmond following the shooting.
On Monday, a group of pastors coordinated simultaneous unity vigils at four sites throughout the city. Remembrance services were held at First African Baptist Church on North Side, First Union Baptist Church on South Side, Second Baptist Church in the Randolph community and in Chimborazo Park in the East End.
Second Baptist Church also hosted a vigil last Thursday to remember the Charleston victims.
Absia Bara of Henrico County attended the unity vigil at Third Street Bethel, where pastors from various religious denominations participated in the hourlong service.
"My heart goes out to the people in South Carolina," she said. "It's like a part of me is aching inside. I wanted to come out and touch hands with my brothers and sisters and heal this aching that's inside me."
Interim Minister Walker Clark and 26 other members of First Unitarian Universalist Church in the West End arrived early wearing yellow shirts that read: "Standing on the Side of Love."
"Our congregation has created a pledge to fight against racism in Richmond," Minister Clark said. "We wanted to show support not only for the AME community, but for the black community in general. It's absolutely tragic" for Dylann Roof, the 21-year-old who has been charged in the massacre, "to be so polluted by hatred of another race."
Rev. Boyd spoke of how the Rev. Clementa Pinckney, pastor of the South Carolina church, and his congregation welcomed Mr. Roof — a complete stranger — into their Bible study with open arms.
"Pastor Pinckney and his flock did what any people of love would do, and the evil force of hatred and racism came in and abused it," Rev. Boyd said.
"In their love, they died following the greatest commandment of God. They died loving their brother."
The Rev. Robert Brownell of St. Peter Catholic Church in Downtown, vowed, "We will not allow it to reduce us to despair. We weep, but that doesn't end there. That has to power us to go forward, for people to reach out and hold hands."
In a prayer for unity, the Rev. Kathryn Lester-Bacon, associate pastor of Second Presbyterian Church, asked God "to show us that violence and hatred will not have the final word."
The Rev. Melanie Mullen of St. Paul's Episcopal Church said the shooting made her recall other violent acts, including bombings and shootings, perpetrated upon other African-American churches.
"Something else is greater than fear," she said, and that's the power of God's love. "I will not serve God behind bulletproof glass."
As the service concluded, church officials lit nine candles to honor the dead in South Carolina as Dr. Boyd read their names.
"Brothers and sisters of the AME church, we feel their loss," he said.
Dr. Boyd then noted that a 10th candle represented Mr. Roof.
"We pray for him as well as the nine … that God will change his heart and remove the hate and racism and put love in his heart."
On Tuesday afternoon, the Baptist Ministers' Conference of Richmond and Vicinity remembered the shooting victims at a vigil at Great Hope Baptist Church in Church Hill. Its purpose was "for clergy, community, community leaders and the community collectively to mourn those who were murdered" and to "seek God's peace, love, healing, strength and guidance that will enable them to find comfort to make this world a better place," said Dr. Marlon Haskell, pastor at Chicago Avenue Baptist Church and the president of the ministers' conference.
Dr. Haskell said the 200-member ministers' conference, which represents predominately black churches, is "encouraging all churches and pastors to pray for the victims, their families, Emanuel African Methodist Episcopal Church, the perpetrator and his family, the city of Charleston and the state of South Carolina that embraces the Confederate flag, which is a reminder of deep-rooted racism."