Spotty CARE van service leaves riders in limbo
Jeremy M. Lazarus | 5/1/2015, 3:58 p.m. | Updated on 5/1/2015, 3:58 p.m.
Roderyck Bullock has somewhere to go almost every day, but he doesn't always make it.
His ride sometimes arrives late. Occasionally, it doesn't show up at all.
His ride is GRTC's CARE service, the specialty door-to-door van transportation for the elderly and disabled.
Mr. Bullock is recovering from the amputation of his left foot last year and has become, like hundreds of Richmond residents, dependent on CARE to get from place to place.
Mr. Bullock said he would ride a GRTC bus, but the medication he takes and his physical condition put him at risk of falling if he tried to walk to the nearest bus stop three blocks from his Church Hill residence.
He said his life frequently ends up on hold because the van comes well past the scheduled arrival time, a familiar and longstanding complaint of frequent riders.
In recent days, "everything has been great. My ride has been on time," said Mr. Bullock, a former track coach at Highland Springs and Armstrong high schools. "But there was a two-week stretch earlier this month when I missed almost every appointment with my doctors and physical therapists because the van showed up late or never came.
"And I had a really important appointment regarding my disability application that I couldn't make," he said. "That set me back. I had to reschedule and have my review set back again."
He said the problems did not just start. He missed so many physical therapy appointments since November, he said, that one company canceled him as a patient.
Mr. Bullock, a former president of the Richmond Crusade for Voters who is well known for his work in area Democratic political campaigns, said that CARE drivers have reported him as a "no show" when they could not find his home and ended up stopping several blocks away.
"That's not right," he said.
He said problems could be eased if the CARE service or the driver would call or text him if there is a hitch or difficulty finding his home, but he said that doesn't happen.
"And when you call to find out what is happening, there can be 40 people ahead of you waiting to speak with customer service."
He's not alone in feeling CARE service needs improvement.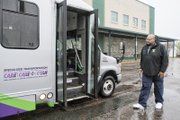 "We've been trying to get better service for years," said Richmond resident Donald Garrett, who rides the CARE van three days a week to dialysis treatment. He said being late to dialysis is not uncommon.
Speaking for himself and other CARE regulars who complain to him, he said, "We get plenty of promises, but we don't see much change. Sometimes, it just depends on how committed the driver is."
The poor service is a constant topic for riders. One who spoke on condition of anonymity recalls a blind man who ended up spending the night outside his doctor's office after a van missed his pickup.

GRTC is required to provide CARE service as a condition of receiving federal funding for its regular bus service. According to the company, 72 CARE vans operate in addition to a fleet of 156 buses on fixed routes.