Spotty CARE van service leaves riders in limbo
Jeremy M. Lazarus | 5/1/2015, 3:58 p.m. | Updated on 5/1/2015, 3:58 p.m.
Roderyck Bullock has somewhere to go almost every day, but he doesn't always make it.
His ride sometimes arrives late. Occasionally, it doesn't show up at all.
His ride is GRTC's CARE service, the specialty door-to-door van transportation for the elderly and disabled.
Mr. Bullock is recovering from the amputation of his left foot last year and has become, like hundreds of Richmond residents, dependent on CARE to get from place to place.
Mr. Bullock said he would ride a GRTC bus, but the medication he takes and his physical condition put him at risk of falling if he tried to walk to the nearest bus stop three blocks from his Church Hill residence.
He said his life frequently ends up on hold because the van comes well past the scheduled arrival time, a familiar and longstanding complaint of frequent riders.
In recent days, "everything has been great. My ride has been on time," said Mr. Bullock, a former track coach at Highland Springs and Armstrong high schools. "But there was a two-week stretch earlier this month when I missed almost every appointment with my doctors and physical therapists because the van showed up late or never came.
"And I had a really important appointment regarding my disability application that I couldn't make," he said. "That set me back. I had to reschedule and have my review set back again."
He said the problems did not just start. He missed so many physical therapy appointments since November, he said, that one company canceled him as a patient.
Mr. Bullock, a former president of the Richmond Crusade for Voters who is well known for his work in area Democratic political campaigns, said that CARE drivers have reported him as a "no show" when they could not find his home and ended up stopping several blocks away.
"That's not right," he said.
He said problems could be eased if the CARE service or the driver would call or text him if there is a hitch or difficulty finding his home, but he said that doesn't happen.
"And when you call to find out what is happening, there can be 40 people ahead of you waiting to speak with customer service."
He's not alone in feeling CARE service needs improvement.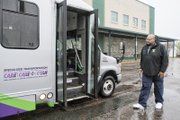 "We've been trying to get better service for years," said Richmond resident Donald Garrett, who rides the CARE van three days a week to dialysis treatment. He said being late to dialysis is not uncommon.
Speaking for himself and other CARE regulars who complain to him, he said, "We get plenty of promises, but we don't see much change. Sometimes, it just depends on how committed the driver is."
The poor service is a constant topic for riders. One who spoke on condition of anonymity recalls a blind man who ended up spending the night outside his doctor's office after a van missed his pickup.

GRTC is required to provide CARE service as a condition of receiving federal funding for its regular bus service. According to the company, 72 CARE vans operate in addition to a fleet of 156 buses on fixed routes.
The van service is actually in two parts — CARE and C-Van. C-Van provides rides to jobs for Social Services clients enrolled in a work program called VIEW, or Virginia Initiative for Employment not Welfare.
The van service is expensive. GRTC spends about $16 million a year to provide CARE service, or nearly 25 percent of its annual budget. However, the service provides only about 250,000 rides a year, or a little more than 2 percent of the 10 million total rides GRTC provides each year.
Tim Barham of GRTC acknowledges CARE service could be better. At a recent meeting of CARE riders, he said the vans are on time about 80 percent of the time, meaning that one in five rides is handled after the scheduled pickup time has come and gone.

One reason may be the lack of continuity in the contractor providing the service. GRTC replaces the private company every few years. MV Transportation of Dallas got the contract in December, replacing Keolis North America of Rockville, Md.
And there appears to be significant turnover in drivers. Mr. Bullock said he was told he got late service at one point because six drivers abruptly quit.
Without confirming or denying the problem, Mr. Barham stated that GRTC is continuing to "work with MV to ensure that both required operator needs and rider needs are met. GRTC and MV have been hiring and training new operators continuously and will continue to do so until proper staffing levels are met."
Earlier this week, a new group of operators graduated from training, he noted. Still, "it is expected in any company for there to be periodic staff turnover," which he said would require GRTC and MV "to adjust needed staffing numbers to maintain the level of service our customers depend on."

Mr. Barham said efforts have been made to address concerns that drivers too often get lost. He said van operators are equipped with mobile terminals or tablets that provide them with GPS or turn-by-turn directions. Operators who still get lost are counseled and retrained, he said.
"All service is documented in a manifest and can be referred to when investigating a customer's concern," he said.
Unlike regular buses, CARE takes reservations from customers for service, and then routes its drivers based on where pickups are scheduled. He said GRTC has improved the way it accepts reservations. People can now place reservations by phone, by fax or by email, he said.
Still, reservations cannot be made online yet. GRTC is still looking into that option, he said.
Mr. Barham said GRTC also is trying to improve CARE customer service. He said the company recently added integrated voice response (IVR) that allows a customer to leave a number and receive a call back, rather than having to stay on hold. Customers also can leave a message on the voicemail, he said.
The next step, he said, will be to modify the IVR to contact a customer when the vehicle arrives to improve communication and reduce "no shows." He could not indicate when GRTC would install that option.
He also said GRTC is committed to upgrading the software the company uses to route drivers and plans to do so in the next few years.
Meanwhile, riders like Mr. Bullock will have to keep their fingers crossed that the CARE van they have scheduled will show up as promised.