Huguenot soccer team has a world of talent
Fred Jeter | 5/22/2015, 2:55 p.m. | Updated on 5/22/2015, 2:56 p.m.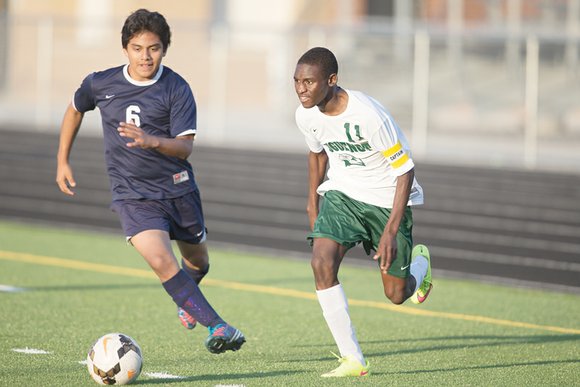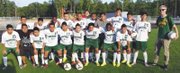 It is fitting Huso Hasanovic teaches world geography at Huguenot High School. His global awareness ties in nicely with his other Huguenot duty — coaching Falcons soccer.
With an international cast of athletes, Hasanovic, a native of Bosnia, has guided his fledgling program to championship caliber in just two seasons.
For at least six years, there was no soccer team at the school on Forest Hill Avenue in South Richmond. Hasanovic revived the program in spring 2014 after transferring his teaching assignment from John Marshall High School.
"The main reason I came to Huguenot," said Hasanovic, "was to start a soccer team — start it from scratch."
John Marshall High School currently has no soccer team.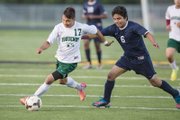 Hasanovic credits Falcons Activities Director Shea Collins for making soccer's rebirth at Huguenot possible.
"Just about everything I asked for, I got a 'yes' reply," said Hasanovic. "It started with ordering balls. There were none when I got here."
Finding enough athletes willing to commit to playing was the next task.
"We put our fliers, used the public address system — everything we could do," said Hasanovic.
As it turned out, most applicants were first- or second-generation Americans, many of whom are enrolled in Huguenot's English as a Second Language (ESL) program.
Hasanovic's 22-man roster includes athletes from Sudan, El Salvador, Honduras, Guatemala and Mexico.
"Just three are Americans," he said. "I knew coming here I'd have a very diverse group."
Spanish is the dominant language within the ranks. Hasanovic is sometimes asked to serve as coach/interpreter. Some of the athletes with more English proficiency help interpret for their teammates.
They all speak fluent "soccer," however.
Huguenot won the Conference 26 championship last season and advanced to Division 3 Regional play. Repeat honors are expected this year when the Falcons host Conference 26 on May 27 and 29.
Huguenot's team captains are Alexis Canessa, a native of El Salvador, and Mohamed Abdalla from Sudan.
Abdalla is joined on the squad by his brother, Sami. Their parents, Ismail and Famil Abdalla, brought the family from Khartoum, the capital of the Republic of Sudan, to the United States in 2012. Ismail works for Tyson Foods and Famil works for a hotel.
Both Mohamed and Sami, whose first language is Arabic, also are distance runners for Huguenot's track team.
The soccer team hasn't backed down from larger schools on this year's schedule. So far this spring, the Falcons have wins over L.C. Bird and Varina high schools of Division 5, and tied with Division 5 Clover Hill High School.
Huguenot also dominated its South Side rival, George Wythe High School, 8-0 on May 14, the Falcons' first home game this spring.
Huguenot's top scorer has been dynamic freshman Bryner Rosado, a native of Honduras. Already, he has logged 10 goals.
"Bryner has incredible speed and awareness," said Hasanovic. "He is relentless in his passion to score."
Hasanovic says his Falcons would be considerably stronger if not for the Richmond Public Schools' imposed 2.0 GPA rule.
"We've lost a lot of very good players to that," he said. "It's very difficult for some of these kids, sitting in class when they don't understand everything being said."
That's one of many disadvantages.
At many suburban schools, soccer players hone their skills playing for privately run — and often expensive — club squads. That is less common at Huguenot.
Many of the Falcons receive their only extra training in a mostly Spanish-speaking league of primarily adults that plays on Sundays behind Manchester Middle School in Chesterfield County.
Lack of tradition might be Hasanovic's tallest hurdle at a school known best for basketball and football.
"We've worked hard to get kids to want to play for the school," he said. "Once you have some success, like we've had, it becomes easier. Everyone wants to be part of a winner."
The mounting victories and additions to the school's trophy case have left the Falcons smiling.
And the great thing about smiles is that they require no translation.