Personality: Christie W. Rasberry
Spotlight on Richmond Public Schools 2016 Teacher of the Year
11/13/2015, 1:17 p.m.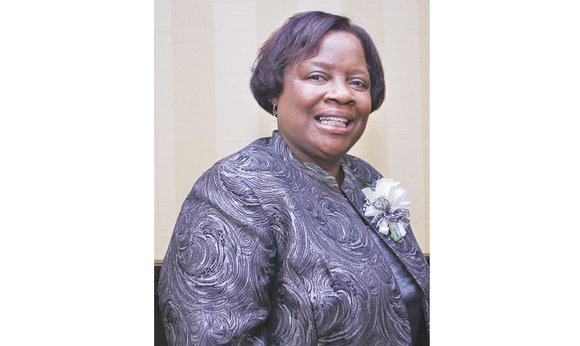 Christie W. Rasberry comes from a family of educators.
However, the Glen Allen resident says she considered other career options before deciding to pursue a career in teaching.
"I knew that I wanted to help others in some capacity," she explains of her job search.
"The most significant factor that influenced the direction I took was my two cousins who were deaf and used sign language (to communicate)," she says. "I was driven by my desire to help those unable to communicate."
Today, 34 years after becoming an educator, Mrs. Rasberry is being recognized for her accomplishments as an exceptional education teacher.
The William Fox Elementary School teacher has been named the 2016 Teacher of the Year for Richmond Public Schools.
She was recognized during a special ceremony last week at a Downtown hotel. "I was shocked and surprised. I really could not believe that my name had been called," she says of her reaction to winning the award.
As Richmond's top teacher, Mrs. Rasberry received a $1,000 cash award, an iPad mini and a flat-screen television. She also will receive a complimentary one-night stay at the Crowne Plaza Downtown Richmond hotel.
Mrs. Rasberry says her teaching philosophy is based on "the premise that learning is not optional, it is required." "Developing each child is like planting a garden of potential. I am challenged by what seems impossible and move toward possibilities."
She adds, "I believe that teaching and learning are a journey which is evolutional and ever changing. I believe that learning is not just for the here and now, but a lifelong process."
Mrs. Rasberry spent her early years in education serving as a school speech-language pathologist in Roanoke. She has been an exceptional education teacher at Fox Elementary since 2000 and currently is a mentor teacher, a role she has held for nearly five years.  
Let's learn about this week's Personality, Christie W. Rasberry:
Date and place of birth: April 28 in Richmond.
Education: Bachelor's degree, Hampton University; master's degree, Virginia Commonwealth University.
Family: Husband, Calvin, and two children, Hunter Wallace III and Crystal Willis.
Criteria used to evaluate the nominees for teacher of the year include: Contributions to the field of education, demonstration of innovative practices, effective school-community relations and the use of effective strategies to improve instruction.
Foremost reward of teaching: I love the sparkle or the "ah-ha" moment when children suddenly realize that they can achieve a skill. I love it when children become independent and show what they know.
Foremost challenge is: Realizing that children may not begin at the same starting point. Children have different experiences, background knowledge and life situations that affect their learning.
Advice to aspiring teachers: Approach each day as an opportunity to enhance, enrich and encourage the learning of others.
Role of parents in learning process: Parents are an integral part. Their involvement helps encourage a positive partnership between home and school. This sends a strong message to our students.
Favorite subject in school: English.
Favorite teacher and why: My mother. She empowered me to always do my best. She believed in my abilities and encouraged me to aspire higher and always reach for the stars.
I place top value on: Education and the impact it has on future success for my students.
How I face the day: With an attitude of gratitude that I have one more chance to educate a child. I believe that education will impact their future.
Three words that best describe me: Patient, nurturing and loving.
Person who influenced me the most: My parents, Rosa Winston and the late William Thomas Winston. They taught me that whatever you do, do it well and to the best of your ability.
Book that influenced me the most: "The Glass Castle" by Jeannette Walls.
What I'm reading now: "30 Life Principles" by Charles F. Stanley and "Leaders of Their Own Learning" by Ron Berger, Leah Rugen and Libby Woodfin.
Next goal: I want to start an educational consulting firm. I would like to continue mentoring new teachers and helping students explore career options.