Personality: Ashley A. Morgan
Spotlight on Richmond's 2019 Teacher of the Year
12/6/2018, 6 a.m.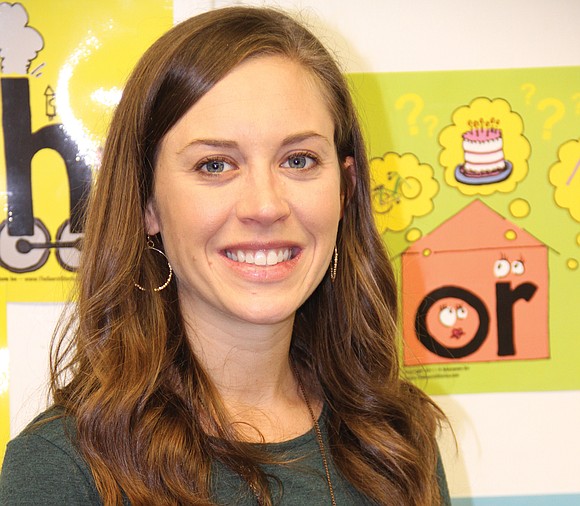 A William Fox Elementary School teacher's youthful dream paved the way to Richmond's highest teaching honor.
Ashley A. Morgan, 28, a first-grade teacher at the Hanover Avenue school in The Fan, was named the 2019 Richmond Public Schools Teacher of the Year last week during the school district's annual ceremony. She wins $1,000.
Her reaction was classic for a low-profile teacher who stands out for great work in the classroom.
"It was shocking as I realized the great company of teachers surrounding me," Mrs. Morgan recounts of the Nov. 29 ceremony at a Downtown hotel. "I did not expect to hear my name (called) because I could not imagine being picked as one of the top Richmond Public Schools teachers, let alone the Teacher of the Year. The award is such an honor."
Mrs. Morgan, who was one of 10 finalists for the recognition, says she owes the award to the many teachers who pushed and guided her along the way.
"She did her student-teaching at Fox in 2014," says Fox Principal Daniela Jacobs. "I knew then that I wanted her to work at Fox, although I did not have a position for her at the time."
Ms. Jacobs hired her as soon as a position became available in 2015.
In the intervening year, Ms. Morgan taught kindergarten at Henrico County's Dumbarton Elementary School.
"Ashley is one of those people in that teaching is just innate. She's got it," Ms. Jacobs says, adding that she wasn't surprised when Ms. Morgan was named Teacher of the Year.
She is the fourth Fox teacher to win the award since 1990.

She calls Fox Elementary "a very unique place," with a variety of music and arts programs. "We have an outstanding PTA that supports what we are doing."
She describes the student body as "diverse," with some students from affluent families, others from low-income families and others who live in homeless shelters "and face a few more struggles."
But, Fox Elementary "is one school, and we all have different things to offer from our different backgrounds," Mrs. Morgan says.
Because of that diversity, Mrs. Morgan says she realizes that each child comes to school with different issues that may be barriers to learning. This fact led her to join a group of teachers exploring a trauma-informed approach to teaching and learning and adding it to her skills.
"There are many students having some sort of trauma (at home) like divorce, which can affect a child, or struggling to find housing or just moving around a lot," she says. "Teachers need to know where their students are coming from and help them deal with it. A student may really need help so they can focus on their academics, as well as feel comfortable and loved."
For Mrs. Morgan, building student-teacher relationships is one of the most important aspects of teaching.
"My focus on relationships is huge because I want my students to realize they are learning, seeing how much they grow and to always feel learning is fun."

Richmond's top teacher has another exciting event to look forward to in 2019. "My husband and I are expecting our first child in May 2019," she says.
"Parents are their child's first teachers. It is important to exposure them to books, even if your child is too young to read, and giving them experiences. This is so important."
Meet an award-winning teacher and this week's Personality, Ashley A. Morgan:
Latest award: Richmond Public Schools 2019 Teacher of the Year.
Date and place of birth: July 30 in Richmond.
Current residence: North Side Richmond.
Alma maters: Bachelor's degree, human development, with early childhood and adolescence concentration, Virginia Tech; and master's in teaching, Virginia Commonwealth University.
Family: Husband, Zach Morgan.
How long I've been a teacher: Currently in my fifth year.
Why I became a teacher: Ever since I was in elementary school, I have wanted to be a teacher. As a little girl, I remember being so excited to get a dry erase board for Christmas and I couldn't wait to teach my "class" of dolls everything I was learning in school. I have been so fortunate to have had wonderful teachers in my life that instilled in me a love of learning, which is what I hope I am doing for my students.

Teaching philosophy: My hope is that my students see the opportunities education can create for them and discover their passions. I think it is so important that my students enjoy coming to school and feel confident, both to succeed and challenge themselves, even if it means making a mistake or not being successful the first time they try something.
Foremost reward of teaching: It is so rewarding to build relationships with my students. To get to know their interests and what is going on in their lives is really cool. It's fun to plan lessons based on what they will find interesting. It's rewarding to see their growth throughout the year and watch them discover their interests.
Foremost challenge: One of the biggest challenges teachers face is the amount of responsibilities we have and schools in general have. We not only focus on academics, but also on the social and emotional needs of our students, despite our limited resources. As teachers, we take on many roles in order to fully support our students.
What I do to engage my students: My classroom is very hands-on, differentiated and student-centered. I try to ensure my lessons are cross-curricular, which helps students make connections and become further interested in what we are studying. Students are "doing" the learning, whether it be a cooperative learning math game to reinforce a concept, moving around the room for a phonics spelling activity or working independently at a technology center.
Advice to aspiring teachers: To remember why they chose to be teachers, especially on the tough days, and know that even though it is challenging work, it is so rewarding. Also, to get as much from the classroom experience as they can. There is so much to learn from seeing teachers in the classroom and working alongside them.
Role of parents in learning process: They are their child's first teacher. Parents and teachers, as a team, can give students the support they need to succeed.
How technology makes teaching more simple or difficult: Technology is a tool that should be utilized to support and enhance instruction, but should not replace instruction. Technology cannot create the relationship a teacher can build with a student or teach cooperative learning and social skills like working with a partner or group to solve a problem.
A good teacher is: Caring, nurturing and has high expectations for all students. A good teacher helps all students realize and achieve their potential.
A good student is: All students are good students, as they are doing the best they can with the skills they have.
Favorite subject in school: Reading.
How I start the day: Each day is exciting and a fresh start. It's hard for a day to start off bad when getting hugs from 6- and 7-year-olds who are excited to see you and tell you something exciting that has happened to them since the previous afternoon or over the weekend.

A perfect day for me is: When lessons click for students and they are excited about the activities. It's the days when students are asking about the next activity or center because they just can't wait for it, or maybe it's their favorite part of the day and they look forward to it each day. This kind of enthusiasm is contagious.
Something I love to do that most people would never imagine: Handwriting. I loved teaching cursive writing as a second-grade teacher. I also took a calligraphy class a few years ago and as a hobby love the opportunity to practice. Addressing my wedding invitations last year was a fun project to tackle!
Kindergarten taught me: To love school! My brother is only a year older than me and I was so excited to get the teacher he had just had. I couldn't wait to go to school!

A quote that I am inspired by: "When one teaches, two learn." — Robert Heinlein
How I unwind: Cooking and walking — around our neighborhood in North Side or exploring Maymont, Byrd Park and other Richmond places.
Person who influenced me the most: In terms of teaching, my fifth-grade teacher. Also, a professor at Virginia Tech who took a group of us to Malawi, Africa, to teach for a month, and when I was a student-teacher, my cooperating teacher. We are now co-workers and close friends. Her daughter is now a teacher at our school and I am her mentor, so it has come full circle!
Book that influenced me the most: "There' a Cow in the Road!" by Reeve Lindbergh.
Next goal: To continue mentoring and supporting new and pre-service teachers. That first year can be so overwhelming.