VSU's new power player: Cannon
10/16/2015, 9:26 p.m.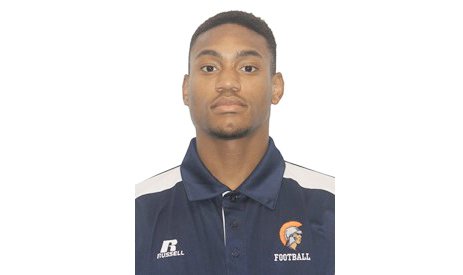 The most appreciated gifts are often those you never saw coming.
Trenton Cannon has been Virginia State University's surprise package this football season.
A sophomore transfer from Shepherd University in West Virginia, Cannon didn't create so much as a ripple in the Trojans' preseason prospective.
He has become the gridiron equivalent of a shock wave ever since.
"I knew absolutely nothing about Trent until spring ball," said Coach Byron Thweatt, who became the Trojans football coach in January.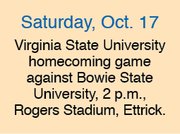 "He came out for the team — really just to try out — but he showed flashes of brilliance."
The 6-foot, 195-pound running back ran for 141 yards in VSU's 24-23 victory over Elizabeth City State University on Oct. 10. He's also a top reason VSU heads into its homecoming game with a legitimate chance for a third straight CIAA Northern Division pennant.
Out of nowhere, Cannon has emerged as perhaps one of VSU's biggest factors as it prepares to take on Bowie State University at 2 p.m. Saturday at Rogers Stadium.
The matchup figures to be a pivotal Northern Division clash despite the absence of Bowie State's star quarterback, Matt Goggans, who was ruled ineligible.
Goggans, aka "Matty Ice," was leading the CIAA in virtually every passing category through five games.
While the CIAA has not yet changed its official standings, it is likely Bowie State will forfeit four victories, including two non-Divisional CIAA wins.
A native Californian, Goggans previously attended two junior colleges and played one season at North Carolina Central University.
In its first outing minus Goggans, Bowie State downed Chowan University 17-14 on Oct. 10 behind fill-in quarterback Trevon Bennett.
VSU, Bowie State and Virginia Union universities are all 1-0 in the Division. VSU has one non-Divisional CIAA loss to Fayetteville State University. The Trojans are 4-2 overall, 2-1 in the CIAA and 1-0 in the Northern Division.
The Trojans won the CIAA Northern Division in 2013 and 2014 and claimed the CIAA championship a year ago in Coach Latrell Scott's final season in Ettrick.
Cannon seems capable of racing right into the Trojans' record book.
From Hampton's Kecoughtan High School, Cannon is in line to become just the fifth 1,000-yard rusher at VSU, following Jordan Anderson (1,142 yards in 2013), Taron Hampton (1,076 yards in 2008); Von Allen (1,020 yards in 1986) and George Leonard (1,003 yards in 1977).
Despite limited action in VSU's opening loss to California University of Pennsylvania, Cannon has 690 yards and six touchdowns on 128 carries in five full games.
His breakout game was Sept. 12 when he gashed Tusculum College for 152 yards. He since has had 85 yards against Kentucky State University, 147 yards against Fayetteville State University and 151 yards against St. Augustine's University going into the game against Elizabeth City State University.
"Trent is a slasher," Coach Thweatt says of Cannon's running style. "He's strong, very strong, between tackles. But he also has the speed to get to the edge."
Cannon gives VSU a "1-2 Hampton Punch." When Cannon isn't carrying the ball, it's likely in the hands of junior battering ram Kavon Bellamy from Hampton High School.
Bellamy bulled his way to 989 yards a year ago, but has been slowed by an ankle injury this fall.
Still, Bellamy scored a touchdown at Elizabeth City and has 300 yards for the season.
Leading VSU's defense in Eastern North Carolina was linebacker George Feggins, with 13 solo tackles.
Matt Hillquist's 42-yard field goal with 13 minutes left gave VSU the late lead it didn't relinquish.
VSU hasn't lost to a Northern Division team since the 2012 finale at Virginia Union University.