VSU clobbers St. Augustine's; Elizabeth City State next
Fred Jeter | 10/9/2015, 7:58 p.m.
Virginia State University finds itself in an uncomfortable spot in the CIAA standings — looking up.
In 2013 and 2014, the Trojans were undefeated in the CIAA Northern Division en route to consecutive titles.
This fall under first-year Coach Byron Thweatt, every game the rest of the way figures to be a must-win game, starting with the Saturday, Oct. 10, trip to Elizabeth City State University.
VSU, which is 3-2 overall and 1-0 in the CIAA, kept pace with a 24-0 win over hapless and winless St. Augustine's University last Saturday in the rain at Rogers Stadium in Ettrick. The Falcons, 0-5, have been outscored 210-14.
Coach Thweatt's athletes will encoun- ter more resistance at Elizabeth City State. The Vikings are 3-1 overall and 1-1 in the CIAA under 13th-year Coach Waverly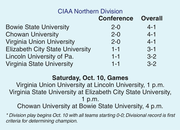 Tillar, whose overall record is 58-40. Coach Tillar is a 1975 graduate of Virginia Union University.
The CIAA Northern Division appears stronger than in recent years based on the results of the first half of the season. Most impressive is Chowan University's stunning upset of Winston-Salem State University. Heading into the second half of the season, every team in the Northern Division feels it has a shot at the crown.
VSU was missing at least six start- ers due to injury in the loss Sept. 26 to Fayetteville State University. Returning against St. Augustine's University were quarterback Tarian Ayres and running back Kavon Bellamy.
In sloppy conditions, Ayres hit 11 of 22 passes for 55 yards and also ran 23 yards for a touchdown.
Bellamy ran seven times for 54 yards,
but was upstaged by Trenton Cannon, who raced for 151 yards and two touchdowns on 24 carries.
He's no one-game wonder.
The 6-foot, 195-pound criminal justice major previously had 152 yards against Tusculum College and 147 yards against Fayetteville State University.
From Hampton's Kecoughtan High School, Cannon transferred to VSU from Shepherd University in West Virginia.
He has been a welcome addition. Cannon is second in CIAA rushing with 111 yards per game, behind only Lincoln University's Steven Scott, with 163 yards.
Spearheading VSU's defense against St. Augustine's was sophomore linebacker Brandon Lynch with 13 tackles.
The Trojans return to Rogers Stadium on Oct. 17 for homecoming against Bowie State University.