Bikers win fans, friends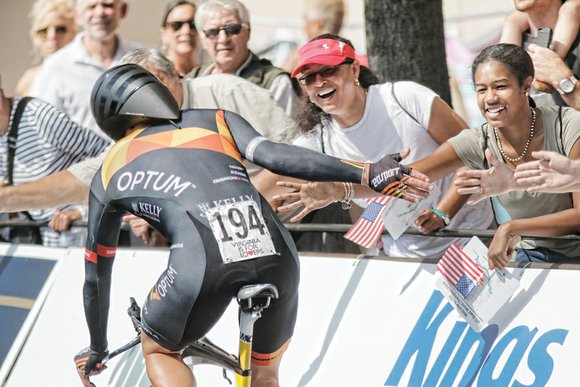 The four riders on the Team Rwanda cycling team that is competing in this week's UCI Road World Championships made hundreds of new fans Wednesday morning when they visited students at Woodville Elementary School in Richmond's East End.
Youngsters from second through fifth grades eagerly lined the halls to meet the cyclists from the small central African country, whose name means "land of a thousand hills."
Members of the team, three young men — Bonaventure Uwizeyimana, Valens Ndayisenga and Jean Bosco Nsengimana and a young woman, Jeanne D'arc Girubuntu — walked down the halls exchanging greetings and high-fives with the wide-eyed children.
"This is so much fun," said one student as she shyly reached out to one of the cyclists.
"The people here are so friendly," marveled Mr. Uwizeyimana, who is scheduled to compete along with his two teammates in Friday's Men's Under 23 Road Circuit.
Ms. Girubuntu, 20, made history on Tuesday, according to team publicist Kimberly Coats, when she competed in the Women's Elite Individual Time Trial. Although she came in last in the field of 44 cyclists, she became the first black woman ever to compete in a UCI race. She is scheduled to compete again Saturday in the Women's Elite Road Circuit.
"The children are so excited," said second-grade teacher Gwen Greggs as her students greeted the riders. "They'll be talking about this for days.
"We've made this a cultural outreach and used it as an opportunity to teach the children about Rwanda," she added.
Latriece Haskins, a Woodville physical education teacher, organized the meet-and-greet with Team Rwanda. She said the team agreed to visit the school after she reached out to Ms. Coats via email.
She called it "an amazing learning experience" for the children.
"It turns around their thoughts about bike riding being more than just riding to the store, but of being a lifelong hobby and a great way to improve your health," Ms. Haskins said.
Utilizing the UCI bike races as a learning tool, Woodville students learned of Rwanda's history of perseverance, its rich culture, its natural beauty and of the four-person bike team that is competing this week against all odds.
The team's accomplishments in going head-to-head against the world's finest cyclists are even more amazing considering they lack the financial advantages and training amenities of many of their counterparts. They are funded by the U.S.-based nonprofit Team Africa Rising, whose mission is to unite African countries through cycling, according to its website.
Team Rwanda Cycling began in 2007, according to its website, and has "exponentially grown the sport of cycling in Rwanda, a country torn apart in the 1994 genocide" in which almost 800,000 people were killed.
During their tour of the school, the African visitors gazed at pictures drawn by students of the Rwandan flag and bicycles to welcome them. The sun in the flag symbolizes the country's rise above its hardships, Ms. Coats said.
Teachers and other adults at the school took photos of the cyclists as they walked through the school and into the auditorium to field questions from about 60 students in a question-and-answer session.