Frustration growing
City Council offers amendments to add millions of dollars to RPS while School Board approves cost-cutting measures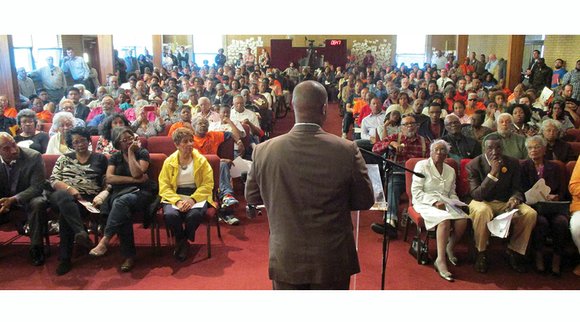 Community members are becoming increasingly angry and concerned about the future of Richmond Public Schools, especially after the Richmond School Board voted Monday to cut costs by shutting down two North Side buildings and implementing a new bus transportation system in the fall of 2016 that will make it more difficult for some students to get to their schools.
The plan will require middle school and high school students to go to the nearest elementary school each morning to catch a bus to their schools.
The board also voted to close the Norrell and Norrell Annex buildings in North Side where school administrators work and to demolish the former Elkhardt Middle School in South Side. The administrators would be moved to the Richmond Alternative School building in Jackson Ward.
The School Board is still considering closing Armstrong High School and four elementary schools, along with potentially consolidating three specialty schools into one.
The board's vote came during a stretch of meetings, work sessions and news conferences by school officials, community members, the Richmond City Council and Mayor Dwight C. Jones aimed at grappling with a $18 million funding gap in next year's school budget.
While Mayor Jones continues to hold the line against increasing spending for Richmond Public Schools, City Council indicated earlier Monday that it wants to provide at least an additional $4.97 million for teacher pay raises beginning in July.
It did so at a work session where council members discussed their individual and co-sponsored proposed amendments to the mayor's general fund and capital budget plans.
Meanwhile, the School Board took action on the cost-cutting measures that the administration estimated would save about $1.1 million annually.
Prior to the vote, board member Tichi Pinkney Eppes, 9th District, asked her colleagues to add an amendment that would eliminate the cost-cutting proposal to close Armstrong High School and the elementary schools and to consolidate the three specialty schools.
"In reality, I don't think we're going to close any schools, and I think we need to stop playing these games," she said.
Board member Mamie Taylor, 5th District, joined Ms. Pinkney Eppes in voting for the amendment. But their efforts failed as the board's seven other members said they preferred to keep the closings on the table as budget negotiations continue.
The possible closings have galvanized the community, with more than 20 people speaking against it at Monday's board meeting.
"Why would you want to close the only black high school in the East End?" Michael Alexander, a 1969 Armstrong High graduate, asked board members.
"Do not put a lock on that school on Cool Lane!" he said, his voice rising.
City Council sought Monday to address some of the community's concerns over what they see as a dispassionate response by city leaders to the schools problems. All nine council members submitted amendments that would provide anywhere from the $4.97 million for the teacher pay raises up to the full $18 million that would allow RPS to fully implement its academic improvement plan.