Cherished Holiday Memories
12/23/2016, 6:24 p.m.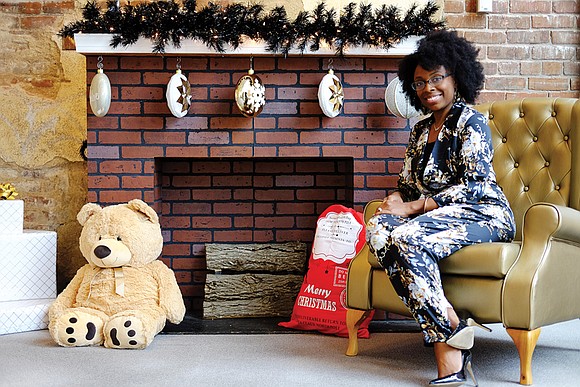 The holidays for many represent a season of light during the darkest time of the year. Whether you spend this season celebrating Christmas, Hanukkah or Kwanzaa, the memories we create with family, friends, loved ones — and even strangers — stick with us for a lifetime.
The generous spirit of love, compassion and humility gives us hope for our collective future.
It is with that spirit that four Richmond area residents shared with the Free Press their most cherished holiday memories. We hope their reflections will bring joyful recollections of your own during this holiday.
Photos by Sandra Sellars/Richmond Free Press
Soundtrack of the holiday
The holidays for many represent a season of light during the darkest time of the year. Whether you spend this season celebrating Christmas, Hanukkah or Kwanzaa, the memories we create with family, friends, loved ones — and even strangers — stick with us for a lifetime.
Tasha Chambers, director, Black History Museum and Cultural Center of Virginia:
There is something about Donny Hathaway's song, "This Christmas," that takes me back to a place when things were simple and easy. The intro of the vinyl version has a distinct crackling sound that fills my heart with sadness and joy. If you've followed my career since I've been at the museum, you probably have read about my grandfather, Christopher Chambers Sr. He was an important person in my life. My grandfather was a simple man. He didn't own much. But he was a good man. He was a family man. His beloved record collection included hits such as The Temptations' "Silent Night," Marvin Gaye's "I Want to Come Home for Christmas" and my favorite, Otis Redding's "Merry Christmas Baby." I couldn't wait until December when he would dust off those records with his breath and fuss about not bumping the record player. Because of him, I got to appreciate the holidays accented with those soulful sounds as the soundtrack to a black folks' Christmas. My grandfather would decorate our small house in Central Gardens in Henrico County with those huge color bulbs that you see in the movie, "A Christmas Story." He would be beyond angry detangling those lights. But each year, I would brave his temperament and hang lights with him. Our little holiday house made him proud! His creative way of explaining to me that Santa had a key for those children who didn't have a fireplace reaffirmed my belief. "Santa" would use that key and surprise me. An Easy Bake Oven and a Cabbage Patch Kids doll were some of my favorites. My grandfather is gone now — a long three years. But I still look forward to that moment each year when I hear "This Christmas." When I do, I just smile and think about my real "Santa" named Granddaddy.
A lesson in giving
Nancy Rodrigues, state secretary of administration:
On a December morning when I was in elementary school in Newark, N.J., my sister, Linda, and I asked my Dad for money to buy Christmas presents. After all, that was our normal course of action. 
However, that time, my Dad said, "Let me think about it."
When we came home from school that day, our backyard was filled with Christmas trees. My father informed us that he was setting us up in the tree-selling business and we could use the "profits" to buy our holiday gifts. I quickly learned the true meaning of "wholesale," "retail" and "mark up."
That year, and subsequent years until my second year of college, selling Christmas trees was an annual event. My parents taught me the key to success was ensuring that each customer got the perfect tree, and so they did.
It seemed we always had enough trees to sell. Dad made sure we had enough inventory.
Every Dec. 23, we sold our last tree and spent Christmas Eve on a shopping and wrapping spree. At last I thought I had learned the meaning of Christmas. I worked hard to afford the gifts I gave.
However, less than a decade later, I learned that my father still had one more lesson for me about the meaning of Christmas. At his funeral, a young man came up to me. I recognized him from the neighborhood.  
He approached me by saying, "I always thought your Dad was Santa." He went on to explain that every Christmas Eve, my Dad went around the neighborhood giving out Christmas trees to families that could not afford to buy one.
Until that moment, I never realized that, in the frenzy of my Christmas Eve activities, I never thought about what became of the leftover trees. Yet the leftover trees were the greatest gift of all.
'Santa Claus always delivers'
Dr. Lei Charlton, Richmond physician:
Growing up on Virginia's Northern Neck, we experienced many winter wonderlands. Christmas parades, church and school plays and singing carols created our excitement.
Our family would go into the woods and help our mother gather running cedar, holly, pine and spruce, which she would transform in her signature way into the live wreaths and decorations for our home. The aroma preceded the finished product and filled the rooms with the smell of Christmas. She would also give her creations to family and friends.
One tradition was the ride to Richmond to Miller & Rhoads department store in Downtown to visit Santa. You thought your heart would literally jump out of your chest as you waited your turn in line. You ran to climb onto Santa's lap, ready to recite your list and have your picture taken with him! You would be confident that you would get everything on that list because, every year, you did.
One of my sisters, Janai, asked for a pony and she got one — a real one she named Jay. Santa Claus always delivers.
One year, I asked for skates and Santa brought them. My sister asked, "Lei, can you skate?"
I demonstrated. Then, they helped me put the skates on and stood me up. Gracefully, I took off on the basement floor and plopp! Tearfully, I looked up and asked, "I can't skate, can I, Pammie?"
Then Christmas morning, we — six children and Mother and Daddy — would march into the room where the live tree — decorated picture-perfect — smelled to high heavens and the fire roared in the fireplace. Everyone ran to their stack of presents and started that frantic Christmas present paper ripping. Such happiness for all!
You had time to play with your toys, eat breakfast and pack to visit family and friends to exchange gifts. There was the stop in Charles City, then on to Richmond and Anna's rolls!
What a great foundation we had for our Christmas celebration today!
Wishing everyone a Merry Christmas and a Happy New Year!
The Christmas road trip
Greta J. Harris, president and CEO, Better Housing Coalition:
Some of my fondest holiday memories center on our road trips from Danville "up North" to visit our aunts and the rest of the family in Connecticut.
Without traffic around Washington or on the New Jersey Turnpike, it was a harrowing 12-hour drive with two parents, two grandparents, four little girls and a gassy Chihuahua named Mitzi all packed in a Vista Cruiser station wagon with three rows of seats — think Chevy Chase and "National Lampoon's Vacation." 
The night before we left, the car would be gassed up and packed with suitcases, kids would be bathed and dressed — even with our hair combed — so at the magic 2 a.m. hour, all that was required was a good teeth brushing and we would be on our way.  
Thirty minutes into the trip, we would all be starving because of the aromas emanating from the one, brown, hardback suitcase filled with ham, roast beef and turkey sandwiches and fresh slices of pound cake that our Mom had stayed up making the night before.
I remember the excruciating look on our Dad's face when we would have left a gas station 15 minutes ago for a bathroom break and one of my sisters stating that she now needed to "go."  
Blessedly, we would finally pull into our aunt's driveway, where we were welcomed with big, juicy hugs and kisses, barking dogs, crying babies, lots of laughter, impressive dancing augmented with adult libations and amazing quantities and quality of food as 30 to 40 relatives began to assemble for days of joyous family time together.
It wasn't the location or the length of stay that really mattered, but the connective tissue that was strengthened just by being together and loving each other unconditionally. We all still remember those feelings of joy, peace and belonging today even though our Mom is the last remaining member of her generation at age 86.
As with most things in life, we strive to continue this loving tradition of family connectivity for the next generation and beyond.