Serena gracious even in defeat at Australian Open
Fred Jeter | 2/5/2016, 12:38 p.m.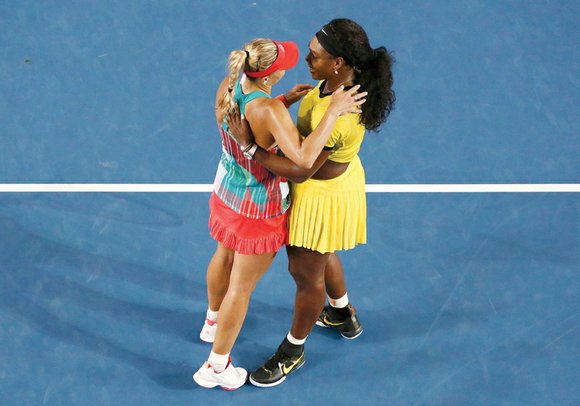 Reuters
MELBOURNE, AUSTRALIA
Serena Williams' relaxed outlook on life spilled over even in defeat last Saturday when she appeared to be almost as happy that Angelique Kerber had won her first grand slam final as the German herself.
The 34-year-old Serena lost the Australian Open final to the seventh-ranked Kerber 6-4, 3-6, 6-4 in just more than two hours of scintillating tennis at Rod Laver Arena in which the German negated the American's power and capitalized on unforced errors.
"I was actually really happy for her," Serena told reporters after the defeat. "She played so well today. She had an attitude that I think a lot of people can learn from — just to always stay positive and to never give up.
"If I couldn't win, I'm happy she did."
Serena was bidding for her seventh Australian Open title and 22nd overall, which would have moved her into a tie with Kerber's childhood idol Steffi Graf for the record in the Open era.
How rare is it for Serena to lose a grand slam final? She had won her last eight and was 21-4 overall.
Even though the record Serena sought of winning a 22nd grand slam disappeared into the Melbourne evening, her beaming smile and graciousness in defeat drew warm applause from the crowd and praise from the sporting world.
"Fantastic gesture after match point and such kind words — a great champion, @serenawilliams!," Manchester United and Germany midfielder Bastian Schweinsteiger said on Twitter.
The response after defeat was a far cry from the player who was once booed by fans at the 2009 U.S. Open after a heated exchange with a line umpire for which she was given a suspended ban and ordered to pay half of a $175,000 fine.
Serena previously said that a cut foot and blood clot on her lung that almost cost the veteran player her career — and life — five years ago had helped her reassess. During the last 12 months, Serena also has recognized that she is edging toward retirement in her career.
Serena was under immense pressure last year when she had the opportunity to become the first player since Graf in 1988 to claim a calendar grand slam, only to have the dream ended by Roberta Vinci in the U.S. Open semifinals.
Serena took the rest of the season off to rest nagging injuries and to deal with the disappointment of missing the grand slam achievement.
That loss, however, also appears to have helped her deal with expectations and she no longer puts that pressure upon herself.
"Every time I walk in this room, everyone expects me to win every single match, every single day of my life. As much as I would like to be a robot, I'm not," she said.
"I do the best that I can. I try to win every single time I step out there, every single point. But, realistically, I can't do it."
Kerber showed nerves of steel to fend off Serena, who had roared back from 5-2 down in the deciding set.
In a final game ripe with tension, Serena succumbed on the first match point with a volley that floated well past the baseline.
Kerber was already flopping to the ground before the ball had landed, and she flung her racquet away as a packed crowd of 15,000 roared in elation and disbelief.
Serena has no liking for runner-up finishes at grand slams, and her defeat was the first in a final since her shock loss to Sam Stosur at the 2011 U.S. Open.
Serena was nonetheless gracious in defeat, walking directly to Kerber's side of the court to embrace her warmly as the new 28-year-old champion wept with joy.