Obama wept
His executive order aims to halt gun killings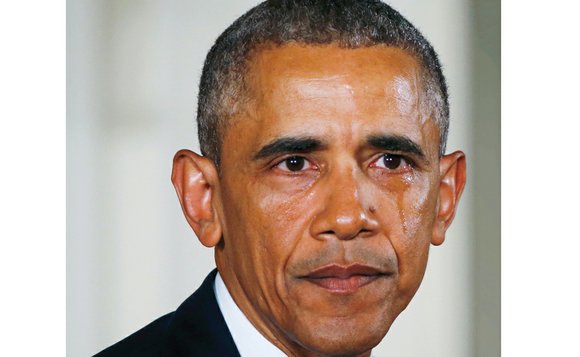 Wiping back tears as he remembered children killed in a mass shooting, President Obama on Tuesday ordered stricter gun rules that he can impose without Congress and urged American voters to reject pro-gun candidates.
The president made it clear he does not expect gun laws to change during his remaining year in office, but pledged to do what he can to make gun control a theme in the months leading up to the November election to replace him.
In a powerful address in the East Room of the White House, President Obama was surrounded by family members of people killed in mass shootings, many of which have taken place during his seven years in office. President Obama's voice rose passionately as he said the constitutional rights of Americans to bear arms needed to be balanced by the right to worship, gather peacefully and live their lives.
He has often said his toughest time in office was grappling with the December 2012 massacre of 20 children and six adults at Sandy Hook Elementary School in Newtown, Conn.
"Every time I think about those kids, it gets me mad," he said, tears rolling down his face.
"That changed me that day," he said, after being introduced by Mark Barden, whose 7-year-old son was killed in the shooting. "My hope earnestly has been that it would change the country."
After that tragedy, the Democratic president failed to persuade Congress to toughen U.S. gun laws. He has blamed lawmakers for being in the thrall of the powerful National Rifle Association gun lobby group.
In his executive action, President Obama will require more gun sellers to get licenses and more gun buyers to undergo background checks.
Under the changes, the U.S. Bureau of Alcohol, Tobacco, Firearms and Explosives (ATF) is issuing guidelines intended to narrow exceptions to a system that requires sellers to check with the FBI to determine whether buyers have criminal records, are charged with crimes or have mental health conditions that would bar them from owning a gun.
Across the nation, gun control advocates and Democratic officials were among those who quickly praised the president's actions as a modest, but a necessary first step toward reducing gun violence.
Hillary Clinton, the Democratic presidential front-runner, posted a "thank you" to President Obama for "taking a crucial step forward on gun violence."
Virginia Gov. Terry McAuliffe also applauded the president's actions.
"The families across our Commonwealth and our nation who have lost loved ones to gun violence make a compelling case for action and Americans are clearly demanding that their leaders take responsibility to ensure that all businesses involved in the sale of firearms conduct appropriate background checks," he stated in a release Tuesday.
"It would be a violation of the public trust to ignore their pleas for meaningful protections. If these measures prevent a single family from going through the agony that so many Virginians have experienced, they will be worthwhile," he added.
Congressman Robert C. "Bobby" Scott of Newport News, who represents parts of Richmond, is vice chair of the House Democratic Gun Violence Prevention Taskforce. He and task force members met with President Obama on Tuesday to discuss the gun proposals. They also attended the president's announcement.