Farewell to the champ
Muhammad Ali fought for justice, equality and title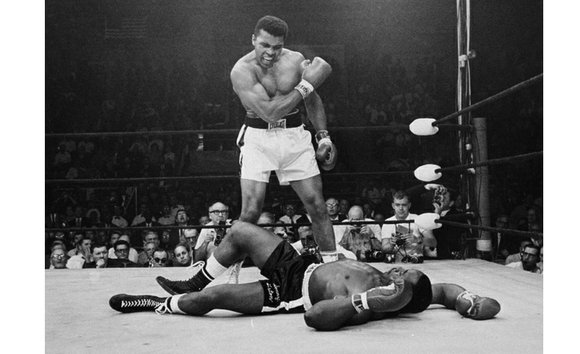 More than 62 years ago, an anonymous bicycle thief in Louisville, Ky., unknowingly set in motion the amazing career of a boxing legend and remarkable world figure who would live up to his self-billing as "The Greatest."

Muhammad Ali • The Greatest
Farewell to the champ
A shaken and angry 12-year-old Cassius Marcellus Clay Jr., wanting to report the crime, was introduced to Joe Martin, a police officer who doubled as a boxing coach at a local gym..
The officer advised the youth to learn to box first before seeking revenge, and young Cassius, who would later change his name to Muhammad Ali and his religion to Islam, found his future at Martin's Gym.
Mr. Ali would rise to become a repeat heavyweight champion and much more.
Bold, charismatic and outspoken, the defiant one dubbed the "Louisville Lip" also would became a symbol of black liberation as he successfully stood up to the U.S. government by refusing to go into the Army as a violation of his adopted Muslim faith, adding his name to the roll call of black activists like baseball great Jackie Robinson, football and singing great Paul Robeson and tennis star and Richmond's own Arthur Ashe.
Later, Mr. Ali would travel the world, raising money for charity and relief efforts, despite battling Parkinson's disease that made him shake uncontrollably, becoming one of the most recognizable figures across the globe on par with Nelson Mandela.
Always a devout Muslim after his conversion, he would at one point use his celebrity to secure the release of 15 American hostages from Iraq, when it was still under the rule of Saddam Hussein.
Tributes to Mr. Ali's stature, courage, generosity and character have poured in following his death at 9:10 p.m. Friday, June 3. He died in a hospital in his adopted home of Scottsdale, Ariz., of "septic shock," a complication of the Parkinson's he had fought for three decades.
As the world mourns, his family plans to carry out his funeral wishes in his hometown of Louisville this Friday, June 10.

Following a private funeral the day before, his body will travel in a motorcade along the avenue that bears his name. The procession will wind through his boyhood neighborhood and down Broadway, the same avenue where a parade 56 years ago celebrated the brash young man who had won a gold boxing medal at the 1960 Olympics, opening the way to his professional career.
The procession is to be followed by a memorial service open to the public that will be held at Louisville's KFC Yum! Center in downtown. Eulogists will include former President Bill Clinton, comedian Billy Crystal and sports television host Bryant Gumbel.
The ceremony will be led by an imam in the Muslim tradition but include representatives of other faiths. Utah Sen. Orrin Hatch, for example will represent Mormons.
"Muhammad Ali was clearly the people's champion," family spokesman Bob Gunnell said, "and the celebration will reflect his devotion to people of all races, religions and nationalities."