39th Annual Richmond Marathon runs on Saturday
11/12/2016, 12:13 a.m.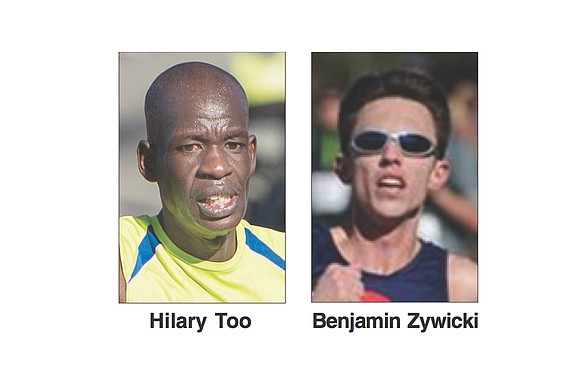 The 39th Annual Anthem Richmond Marathon is Saturday, Nov. 12. The race could boil down to this: Benjamin Zywicki vs. the East Africans.
Dubbed the "Rocky Mountain Man," Zywicki won the Richmond Marathon in 2014, was third in 2013 and is the only American since 2001 to prevail in the 26.2-mile endurance test.
Kenyan and Ethiopian runners have won every other year since 2001, except in 2005, when Andrei Gordeev of Belarus took top honors.
Last year, Kenyan Hilary Too was first to cross the finish line. Too was the runner-up behind Zywicki in 2014.
A 28-year-old mining engineer living in Louisville, Colo., Zywicki did not race here a year ago because of injury.
Zywicki tuned up for this year's Richmond race by winning a Halloween 10K near his home on Oct. 29. He covered the distance in a meet record 32:12 while wearing a full body Power Ranger costume.
Zywicki figures to wear much lighter gear this Saturday as he attempts to match strides with the powerful contingent from Africa.
"I'm excited to be coming back and seeing what I'm made of," Zywicki said from his Colorado home.
Before getting into road racing, Zywicki was a standout at NCAA Division II Colorado School of Mines.
Like many of the East African runners, Zywicki has benefited from high altitude training. Golden, Colo., where he attended college, has an elevation of 5,675 feet. Louisville, Colo., is at 5,335 feet.
According to the Richmond Marathon's veteran Elite Runner coordinator Thom Suddeth, many of the African runners don't register until days — even hours — before the event.
So Zywicki's likely top competition remains a mystery until nearly race time. During the last 15 years, Kenyan runners have won 11 times and Ethiopians twice. Prior to Zywicki, the last United States winner at the Richmond Marathon was Michael Harrison of Norfolk in 2000.
Like the touring African runners, Zywicki is no stranger to a suitcase. His work and athletic passion keep him on the move.
"I just love racing in Richmond. I do this for fun. I have traveled (for work) to China four times this year and spent close to two months away from home."
In June, Zywicki won a half-marathon in a course-record 1:07.5 in Iceland. He ran a disappointing 2:29.1 at the Toronto Marathon on Oct. 16.
Zywicki debated with himself until Nov. 4 before making his decision to register and buy a plane ticket to Richmond.
In 2014, Zywicki won Richmond in 2:18.34, about 10 seconds ahead of Too.
Too won the Richmond Marathon last year in 2:18.48.
In 2013, another Too, Kenyan Sammy Too, won the race in 2:15.09. The two Toos are not related.
The course record of 2:13.45 was set by Kenyan Kennedy Kemei in 2011.
"The Richmond Marathon is a very special race for me because it was my first marathon victory," said Zywicki. "I always have that race in the back of my mind, especially when November comes around."
Men's and women's marathon winners receive $2,500. Prize money includes $1,500 for second place, $750 for third, $500 for fourth and $250 for fifth.
There is an added $2,500 bonus for setting a course record.
Also, another $500 is awarded men for breaking 2:20 and women coming in under 2:46.
Additionally, there is a financial incentive — starting with $100 for the winner — for first-finishing local runners.
The organizing Sports Backers expect about 19,000 runners for this year's marathon, half marathon and 8K combined.
Last year, there were 4,509 marathon finishers.
The women's champion a year ago was Ethiopian Hiut Guangul in 2:42.1. Ethiopian women have won six straight years, from 2010 through 2015, with a Kenyan woman winning in 2009.
The last American runner to capture the women's race was North Carolinian Kristin Price in 2008. Native Richmonder Casey Smith won in 2007.
The women's record for Richmond is 2:31.2, set in 2000 by Russian Irina Suvorova.