Ethiopian runners win 2016 marathon
11/19/2016, 12:11 p.m.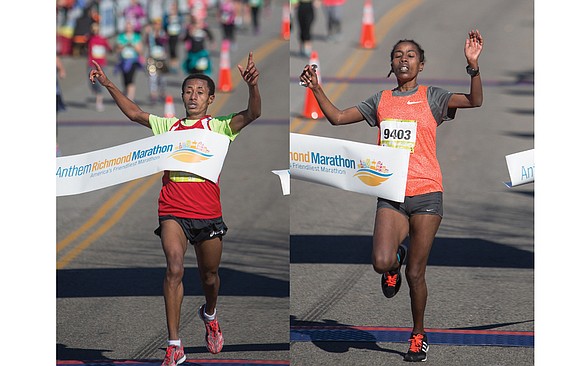 The 39th edition of the Richmond Marathon, like many of the races before it, was dominated by runners from East Africa.
More than 17,000 mostly local and state runners and enthusiasts lined up Saturday in Downtown for the three races — the 26.2-mile marathon, the 13.1-mile half-marathon and an 8K race.
Richmond Mayor-elect Levar Stoney served as official starter.
Ethiopians runners Dadi Beyene won the men's championship and Bizuwork Getahun took the women's title.
Beyene, 28, and Getahun, 27, each received $2,500 from the organizing group, Sports Backers, for their first place finishes.
With temperatures struggling to hit 40 degrees, Beyene won in 2:19:36, well off the record 2:13:45 set by Kenyan Kennedy Kemei in 2011.
Kemei, now 38, finished third this year in 2:20:03. Second behind Beyene was Kenyan Peter Limo in 2:19:41. Coloradoan Ben Zywicki, the 2014 men's champ, dropped out at the 20-mile mark with an injury.
Kenyan runners clinched second through fifth places this year. Sixth-place Greg Mariano of Arlington was the first American to place in 2:27:44.
Getahun's 2:37:51 was the fastest women's winning time since 2002. The record, 2:31:25, was established by Russian Irina Suvorova in 2000.
Ethiopian women now have won the last six Richmond Marathons.
Taking second for the women runners was Susanna Sullivan of Reston in 2:42:34.
The American Family Fitness Half Marathon also was won by an Ethiopian, Girma Gebre, successfully defending his 2015 crown. The 23-year-old covered the 13.1-mile course in 1:04:41, with Rachid Ezzounlou of Morocco placing second.
The top two women's half-marathon runners were Kenyans Joan Aiyabei in 1:12:25 and Veronicah Maini in 1:12:50.
The VCU Health 8K, which is 5 miles, went to John Crain of Blowing Rock, N.C., in 23:09. Monicah Ngige, an 18-year-old Kenyan, was the women's 8K winner in 25:53.
Traditionally, the elite East African runners register for the Richmond event at the last minute. Beyene didn't enter this year's marathon until the night before and was assigned No. 1138. Most elite runners are identifiable by single- and double-digit numbers.
Ethiopia, located on the Horn of Africa north of Kenya, is the world's 27th largest nation with about 99.5 million people. It's status in global running in significantly higher.
Since 1960, Ethiopians have won 22 gold, 10 silver and 21 bronze medals at the Summer Olympics, all in long-distance races.
During the 2016 Summer Olympics in Brazil, Ethiopian Almaz Ayana won the women's 10,000-meter gold in Olympic record time.
In all, Ethiopians won eight medals in Brazil, including two silver and five bronze.
The first Olympic Ethiopian gold medalist was Abebe Bikila, who won the marathon in the 1960 Olympics in Rome while racing barefoot. Bikila successfully defended his title at the Tokyo Olympic games in 1964 while wearing shoes.
The 40th Richmond Marathon will be Nov. 11, 2017.