41st Annual Richmond Marathon kicks off Saturday
11/8/2018, 6 a.m.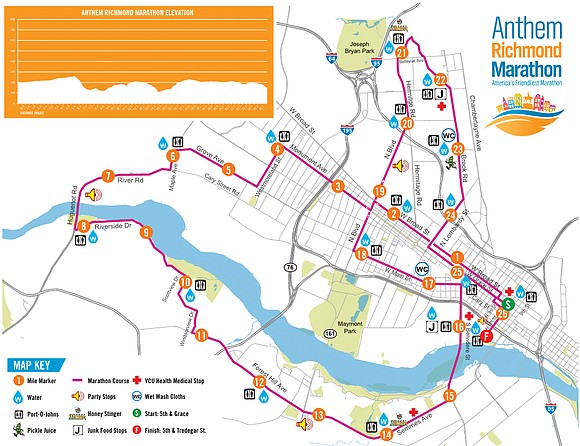 Race day in Richmond
Starting times for 41st Annual Richmond Marathon
7 a.m. – 8K (4.9 miles) at 8th and Broad streets
7:30 a.m. – Half marathon (13.1 miles) at 7th and Broad streets
7:45 a.m. – Full marathon (26.2 miles) at 5th and Grace streets
3 p.m. – Course closes
8 a.m. to 3 p.m. – Co-Star postrace party at Brown's Island finish line
Party zones at 7-mile, 13-mile and 20-mile posts
*Finish line for all races at 5th and Tredegar streets across from Brown's Island along the James River.
Runners take your mark.  
Approximately 19,000 runners are expected for the 41st Annual Richmond Marathon on Saturday, Nov. 10, that will wind its way through Downtown and the West End, south across the Huguenot Bridge, through South Side, north across the Lee Bridge, through North Side and back Downtown to the finish line at Brown's Island.
The young and not so young, fast and not so fast alike will compete in three races: 8 kilometers, half marathon and full marathon.
Prize money is offered to the elite runners. First prize for men's and women's marathon champions is $2,500. The half-marathon and 8K winners will each receive $1,000.
Although the Richmond Marathon is primarily a local race, the first place checks generally go to what some term "the foreign legion" of athletes from East Africa. Since 1999, the men's first place finisher has been from either Kenya or Ethiopia, except in 2014 when Ben Zywicki of Colorado broke the tape.
The 2017 defending champ is Ethiopian Temesgen Habtemariam, who covered the course in 2:21.28.
Tim Covington from Clover Hill High School and Virginia Tech was the last local men's winner in 1998. Covington also prevailed in 1996.
On the women's side, the 2017 winner was Beth Sachtleben of Alexandria in 2:39. The previous eight women's winners were runners from Africa.
The men's record of 2:13.4 was set by Kenyan Kennedy Kemei in 2011. The women's record of 2:31.25 was established in 2000 by Russian Irina Suvorova.
The half marathon has also been dominated by runners from East African nations.
The Richmond Marathon is a qualifier for the Boston Marathon, which will be held April 15.
The weather Saturday will be favorable for the runners and spectators. The forecast calls for partly sunny skies, with high temperatures around 50.