Personality: Marc Cheatham
Spotlight on The Cheats Movement hip-hop enthusiast
10/7/2016, 7:19 p.m.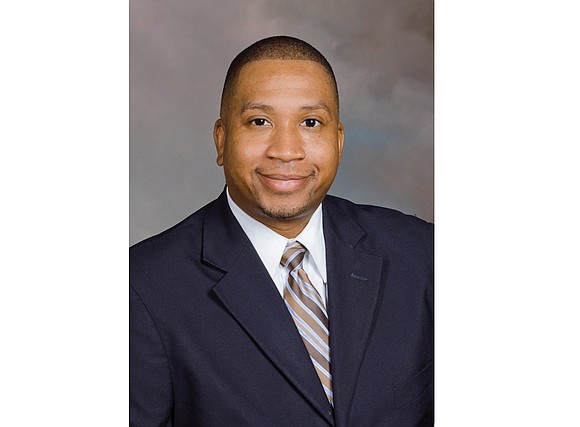 Marc Wesley Cheatham, founder of The Cheats Movement blog and podcast, says Democrat Tim Kaine's 2009 appointment as chairman of the Democratic National Committee was a catalyst for the evolution of a platform for local hip-hop.
"Hip-hop is the most dominant culture in regards to current day events and present cultural activity," says the 37-year-old hip-hop enthusiast whose work in the musical genre has helped spawn a vibrant hip-hop scene locally. He promotes new artists, reviews new releases by local and national hip-hop artists and cultivates community conversations around the art form that has become a worldwide phenomenon.
"Hip-hop culture is pop culture," he said.
So when he and his podcast team talk hip-hop, he said, they talk anything from "local projects to national projects to stuff that's in gospel music."
But they also talk about community events, local elections and politics, he said.
In 2009, Mr. Cheatham was a 30-year-old senior assistant for policy to then-Gov. Kaine, and was recognized as an influential young leader in the community.
The Marine veteran also was an avid listener of hip-hop. When Gov. Kaine was named DNC chairman, he asked Mr. Cheatham to be his travel aide. So, in an effort to stay connected to the music while traveling, Mr. Cheatham began his blog in January 2011.
"People think that hip-hop is simply music and entertainment," the Virginia Commonwealth University graduate says.
"But if you look at social justice, at what Colin Kaepernick is doing, at the conversation about the national anthem and Black Lives Matter, they all reflect hip-hop and it's pervasive place in American culture."
This relationship between culture, music and social change set the stage for The Cheats Movement in Richmond.
"We traveled five out of seven days of the week for 18 months," Mr. Cheatham recalls about the start of his blog. Even though he lived in and loved Richmond, he was rarely at home. He began posting pictures and his reflections on new albums in an effort to stay connected — "to stay home," as he calls it.
The Cheats Movement, which celebrates "art, community, culture and Richmond," blew up in September 2011, he says, after he wrote about local artists performing in the RVA Musical Festival.
After that post, TheCheatsMovement.com instantly became a hit with hip-hop listeners, fans and folks in Richmond who simply like new music, he says.
"We realized that nobody covers local hip-hop and people want an avenue to know it, to celebrate it." Five years later, Mr. Cheatham continues his hip-hop work while serving as director of constituent services for now U.S. Sen. Kaine. He says he's excited about the Joe Budden concert Oct. 30 at The Broadberry, which his team is promoting. Mr. Budden, a solo artist, also is a member of the hip-hop group, Slaughterhouse.
Mr. Cheatham and his business partner, Richard "Big Rich" Hernandez, along with their team of "hip-hop heads" now manage both the blog and the podcast, which Mr. Cheatham hopes will inspire future change makers through hip-hop music and culture.
"We've been able to use the blog, in particular, to partner" with others and "bring the best we can to bridge gaps in Richmond."
The duo is perhaps most proud of the way they have been able to shine a light on a larger portion of Richmond. "Because of our platform," Mr. Cheatham says, "everyone who comes into Richmond knows that hip-hop and a vibrant culture are here."
Meet public servant, hip-hop aficionado and this week's Personality Marc Cheatham:
Occupation: Director of constituent services and casework for U.S. Sen. Tim Kaine.
Top volunteer position: Founder, The Cheats Movement.
Date of birth: Dec. 28.
Current residence: Henrico County.
Education: Bachelor's degree in social work from Virginia Commonwealth University, Sorensen Institute for Political Leadership at the University of Virginia, Virginia Executive Institute at VCU and Leadership Metro Richmond.
Family: Wife, Aria, and son, Cameron, 2.
When The Cheats Movement was founded: January 2011.
Its mission: The Cheats Movement is the intersection of hip-hop culture and community activity. The platform focuses on social justice, community activity and hip-hop music and culture that is relevant to the Richmond region.

When I came up with the idea: The Cheats Movement started as a photography blog. After about a year, I shifted the blog to have more of a meaningful impact on the Richmond region. Today, I am proud that The Cheats Movement is much more than just a blog. It's a podcast, it's a promotion company and a media company. The platform has partnered with several organizations in Richmond, such as the Virginia Museum of Fine Arts, TEDxRVA, WCVE and CBS to highlight the positive impact of Richmond's hip-hip community.
What drives me to do this: I really think hip-hop culture is making a positive and lasting effect on the Richmond we live in. But in order for people to realize it, there have to be outlets and platforms that tell the story accurately. The Cheats Movement is just one platform that highlights how people involved in Richmond's hip-hop community contribute to our vibrant arts scene, start-up community, non-profit sector, local government and politics and more. I'm driven to highlight that there is a growing hip-hop community that is focused on more than just music but every aspect of Richmond.
My vision for The Cheats Movement: My vision is not just for The Cheats Movement. I hope there are many more online and print outlets that reflect positive hip-hop culture in Richmond. Hip-hop blogs shouldn't just be reduced to music. They should reflect the full commentary of the culture. I hope to expand The Cheats Movement by continuing to highlight culture and partnering with like-minded organizations to create new projects that demonstrate the power of the hip-hop community. I also plan to introduce The Cheats Movement podcast to iTunes — it's now on Soundcloud — and make it the most listened to hip-hop podcast in the region.

Hip-hop is: A reflection of the people. Public Enemy and Boogie Down Productions were once called the CNN for the black community. Well Nas, Jay-Z, Kendrick, J. Cole are far more than reporters for just black America, they are reporters for the world because hip-hop culture is the most dominant culture of our time.

Favorite hip-hop artist and why: JayZ is the greatest hip-hop artist of all time. He checks every box and has succeeded for longer and at higher levels than any other hip-hop artists. He's the Michael Jordan of hip-hop. My favorite artist is Ghostface Killah from the Wu-Tang Clan. His wordplay and ability to diversify his style, yet remain true to himself and his music, is genius. I like AZ a lot, too. AZ is the definition of cool.
Women and hip-hop: Women in hip-hop have to do everything the men do, only better and with more obstacles blocking them. There are very talented women hip-hop artists. Rapsody should be as big as J. Cole or Kendrick; she's that good. But like much in American society, women face challenges that make it hard for them to reach success in volumes as large as men.

Communities and hip-hop: There is still tension there. There is still far too much hip-hop music that focuses on the negative aspects of our community. And there is a place for all types of hip-hop music. But there needs to be a balance that allows the trap artists to understand the pure hustler and the hustler to understand the conscious rapper. There just needs to be a balance because hip-hop music is as diverse as our community.
Upcoming community events: The Cheats Movement is assisting with "Hamilton's America," a screening at the Byrd Theatre hosted by WCVE on Oct 18. The Cheats Movement is hosting "Manchester Manifest" on Oct. 15. The Cheats Movement and Trigger System are presenting Joe Budden at The Broadberry on Oct. 30.

How I start the day: Every day is a blessing. I do my best to start every day with a positive outlook and try to maintain that outlook throughout the day. There is no challenge that can't be overcome. As JayZ said, "Difficult takes a day; impossible takes a week."
A perfect day: Every day is the perfect day. Just think about it, every day is perfect and you need to enjoy it while you can.

How I unwind: I'm not above reality TV. I love to joke with my wife and take my son to the various parks around Richmond. I'm a sports fan and enjoy going to live sporting events.

I place top value on: My family and my comfort.

Best late-night snack: Healthy: Grapes. Unhealthy: Ice cream loaded with peanut M&Ms.
Prized possession: I have a book collection that includes books signed by President Obama, President Clinton and our next president, Hillary Clinton. I also have a signed photo with all of the living Virginia governors, including former Gov. L. Douglas Wilder and U.S. Sen. Tim Kaine. It's a special photo.


Person who influenced me the most: My mother, Bettie Cheatham. She taught me about putting family first and being proud of who I am. She sacrificed a lot so that I wouldn't have to. And by doing so, she allowed me to be a leader in ways that I could have never imagined.

Book that influenced me the most: "Bearing the Cross: Martin Luther King Jr. and the Southern Christian Leadership Conference," by David J. Garrow. It was the first book that truly explained Dr. King's personal struggles. He was an incredibly strong man, but he truly had to rely on his family and his faith, and a lot of times came up short.
What I'm reading now: "Can't Stop Won't Stop: A History of the Hip-Hop Generation" by Jeff Chang. The book chronicles the birth of hip-hop. It's used in several colleges as an academic text.
My next goal: The Cheats Movement is working on a print magazine. The Magazine "WESEEIT 001" will feature a variety of Richmond-based street photographers. The Cheats Movement podcast is growing and we plan to release a lot more content in 2016-17.