Chef and hip-hop artist-producer Joshua "Freeze" Reed succumbs at 37
7/30/2020, 6 p.m.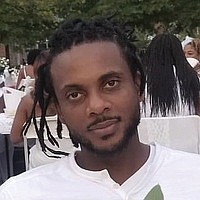 Joshua Lawrence "Freeze" Reed, a talented chef and well-known Richmond hip-hop artist and music producer, has died.
Mr. Reed, 37, who promoted Black entrepreneurship and social justice in his music and his life, died Sunday, July 5, 2020. His cause of death has not been made public.
A memorial service will be held in August, his family said.
A restaurant kitchen veteran, Mr. Reed became a key ingredient when he, coffee shop owner A.J. Brewer and investor James Harris teamed up to open Brewer's Waffles in the 1300 block of Hull Street last year.
A Blackwell resident, Mr. Reed created the seven signature waffle dishes named for city schools and the accompanying milkshakes that made the restaurant distinctive.
"Josh Reed was Brewer's Waffles," Mr. Brewer posted on Facebook. "The city lost a true Black superhero."
Mr. Reed previously worked for several other area restaurants, including Max's on Broad, the SaltBox Oyster Co., Lunch and Supper!
Mr. Reed also was regarded as a staple of Richmond's hip-hop community. He joined with friends 20 years ago to start the hip-hop group My Brother's Keeper or MBK. He continued to perform with the group until 2012, when he began focusing more on the business of music production.
Those who knew him likened Mr. Reed to the Los Angeles rapper Nipsey Hussle for his outspoken advocacy for black economic empowerment and self-reliance to help build up the community.
Outside work, Mr. Reed used social media posts as well as rap pieces to address such topics as police brutality, racism, homophobia, women's rights and economic empowerment.
"He was always writing and talking about everything that is going on," said Anthony Gillison, owner of Just Plain Sound.
Survivors include his wife, singer Samantha Reed; two stepsons, Jonah Miles and Kenyon Miller Jr.; parents, Regina Reed and Lawrence Reed Jr.; sister, Jessica Reed; and brother, Jonathan Reed.