VSU trounces Livingstone 47-0
10/7/2016, 8:07 p.m.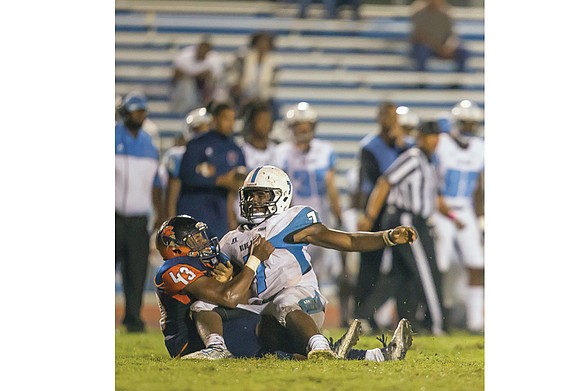 It's time to add Stephen Mines and Christian Harden to Virginia State University's emerging cast of football playmakers.
Both figure heavily into Coach Reggie Barlow's second half plans as the Trojans seek to return to the CIAA title game for the third time in four seasons.
Pass receiver Harden and running back Mines each tallied a touchdown in VSU's 47-0 rout last Saturday of visiting Livingstone College at Rogers Stadium in Ettrick.
The Trojans' home stand continues Friday, Oct. 7, as VSU — 4-1 overall, 1-1 in the CIAA — prepares for its first CIAA Northern Division challenge against Elizabeth City State University (2-3 overall, 1-1 in the CIAA).
Sophomore Mines and freshman Harden provide Coach Barlow and quarterback Tarian Ayres with additional weapons.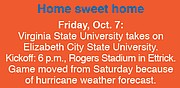 Mines carried seven times for 40 yards and a touchdown and Harden had four receptions for 64 yards with a touchdown in the one-sided win over Livingstone.
Both Mines and Harden hail from premier high school programs.
Mines starred at three-time State 5A champion L.C. Bird High School in Chesterfield County, while Harden comes from Henrico County's Hermitage High School, which has been 76-11 since 2011.
Harden arrived at VSU after spending a red-shirt season at James Madison University.
Mines offers additional power to a rushing attack that features senior Kavon Bellamy and junior Trenton Cannon.
Against Livingstone, Cannon rushed for 86 yards and two touchdowns, while Bellamy carried 50 yards with one score.
Through five games of the new Coach Barlow era, VSU has rushed for 1,147 yards (average of 5.0 yards per carry) with 15 touchdowns.
Defensively, Trevon Bryon and Lamont Britt had interceptions for VSU and Bryant Frazier and Cullen Marshall each had two tackles for losses against Livingstone.
The Trojans' defense has been particularly stingy under first-year defensive coordinator Dwone Sanders.
VSU leads the CIAA in least points allowed — 61 — and in fewest yards permitted — 233.6 per game.
The Trojans went to the CIAA championship game in 2013 and 2014, winning the title the second year. Last year, VSU finished third in the CIAA Northern Division because of narrow losses to Bowie State and Virginia Union universities.
VSU travels to Bowie State on Saturday, Oct. 15, before returning to Rogers Stadium on Saturday, Oct. 22, to celebrate homecoming against Lincoln University of Pennsylvania.