Rep. Scott's Labor Day cookout
A 40-year tradition of serving hot dogs, politics
9/2/2016, 3:23 p.m.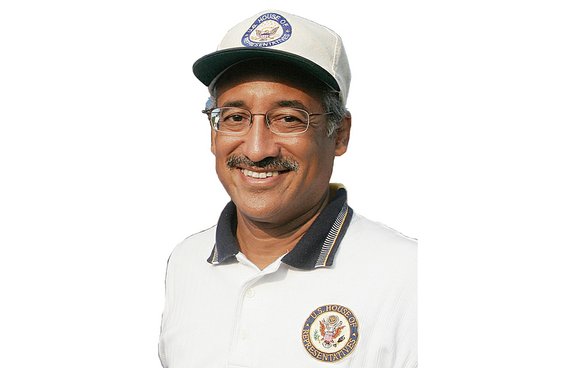 By Lauren Northington
How often can you walk into a cookout, grab a hot dog and chat with U.S. senators, several Virginia mayors and perhaps the governor, without paying thousands?
Thanks to Congressman Robert C. "Bobby" Scott, that's what happens each year on Labor Day.
On Monday, Sept. 5, Rep. Scott will be hosting his 40th Annual Labor Day Celebration from 3 to 6 p.m. in the backyard of his family home overlooking Hampton Roads at 914 Shore Drive in Newport News.
More than 1,000 guests are expected, including Gov. Terry McAuliffe, Lt. Gov. Ralph Northam, and other elected officials, including many candidates running for office in November.
Rep. Scott, whose 3rd Congressional District included Richmond until earlier this year when redistricting moved the city to the 4th District, is excited about continuing the tradition.
"I would guess that if you took a poll, one-third of the people in Newport News would name the Labor Day cookout as a 'Happening,' " Rep. Scott said.
The event requires 50 to 60 onsite volunteer coordinators, and even more volunteers to plan and prepare.
The cookout, which costs approximately $12,000 to put on and is paid for by his campaign fund, had humble beginnings.
It was 1977, he recalled, and his first run for the Virginia General Assembly.
"We had just completed the primary election for the House of Delegates, and we wanted to take time to kick off the general election campaign and thank the volunteers," said Rep. Scott.
"The first year," he said, "we had 30 to 40 people" attend the cookout, along with Rep. Scott and one or two other political candidates.
The 69-year-old Harvard University and Boston College Law School graduate won the election. He served in the House of Delegates from 1978 to 1983 and represented Newport News in the Virginia Senate from 1983 to 1993, before being elected to the U.S. House of Representatives. He is the first African-American elected to Congress from Virginia since the 1890s, and only the second elected to Congress in Virginia history.
In the years since the first cookout, Rep. Scott's Labor Day cookout has boasted an attendance of many of the sitting elected Democrats, sitting Virginia governors, attorney generals, and even a sitting president.
In 1999, then-President Bill Clinton arrived with Secret Service after he and an entourage of state officials in four helicopters flew over Hampton Roads to survey damage from a recent tornado. President Clinton then declared parts of Virginia eligible for federal disaster aid.
Asked if Democratic presidential candidate Hillary Clinton will make a campaign stop at the cookout this year, Rep. Scott responded that she might attend another time.
"I don't think so," he said, "because the Dems are doing well in Virginia."
U.S. Sen. Tim Kaine, who is Mrs. Clinton's vice presidential running mate, attended the event last year with his wife, Anne Holton, who was then Virginia's secretary of education.
They were among 40 to 50 or more elected officials who Rep. Scott introduced at the 2015 event, a testament to how the event remains a staple in Virginia politics.
"I can't remember a single Democrat running statewide that did not attend and win. Few who did attend were not elected, but every Democrat running statewide who has won has attended," he said.
Political underpinnings aside, the congressman firmly believes the event serves a critical role in bringing elected officials and the communities they lead together.

And the event is free and open to the public.
"It's a community event and it's really an unusual event — no tickets, no RSVP," he said. "Just show up."