Politics served up at Rep. Scott's Labor Day cookout
9/9/2016, 6:56 p.m.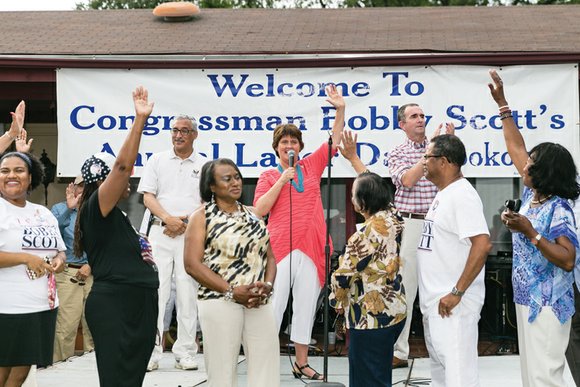 More than 1,000 people enjoyed hot dogs, hamburgers and politics Monday at the 40th Annual Labor Day Cookout hosted by Congressman Robert C. "Bobby" Scott at his family home in Newport News.
People had the chance to informally meet and talk with 40 or more state and local politicians from Richmond to Portsmouth and Danville, while enjoying music, food and the waterfront location.
Even with a bevy of Secret Service agents nearby, former Virginia Secretary of Education Anne Holton, wife of Democratic vice presidential nominee Tim Kaine, was swarmed by throngs of people who took selfies with her and talked about the Nov. 8 presidential campaign.
Taking the stage with Rep. Scott and Lt. Gov. Ralph Northam, Ms. Holton spoke about the political record of her husband and his running mate, presidential nominee Hillary Clinton.
She said voting for Mrs. Clinton and U.S. Sen. Kaine would help improve the lives of working families, citing their support for increasing the minimum wage and education programs and funding.
She said while the polls show fluctuating results, nothing can be taken for granted.
"Tim says we're making history here," Ms. Holton told the crowd. "That is never easy. Virginia is absolutely going to be a battleground."
She reminded people the deadline to register to vote in the election is Oct. 17, and that Election Day is Nov. 8.
"Let's make a difference together," she said. "We're stronger together."
Photos by Ava Reaves