Dash for Cash runner wins $2,500 in Monument Ave. 10K
4/8/2017, 9:35 a.m.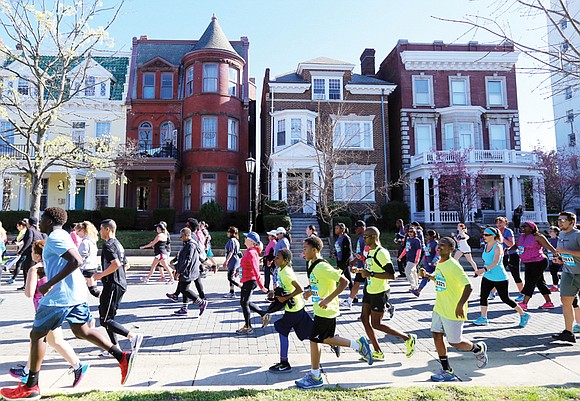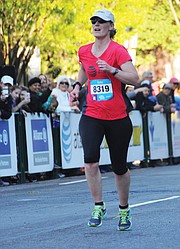 No one ran faster than Ryan Hagen.
No one earned more money than Kathy Hoverman.
No one drew more double takes than Mayor Levar M. Stoney.
And it is likely no one was taller than Terry Davis.
Those were just a few of 26,000 or so story lines from the April Fool's Day edition of the Monument Avenue 10K. The 6.2 mile race-walk was held Saturday, April 1, under warm skies.
In the 18th running of what has become a signature event in Richmond, Northern Virginia native Hagen was first to cross the finish line in 30 minutes, 37 seconds.
The leading lady in 35.55 was Rachel Ward, who grew up in Albemarle County near Charlottesville.
Both Hagen, a former Virginia Tech athlete now taking graduate courses at Mary Baldwin College in Staunton, and Ward, a graduate student at the University of Virginia, were awarded $2,000.
Finishing times have become progressively slower since the sponsoring Richmond Sports Backers decided four years ago to award prize money only to members of the Collegiate Running Association.
That meant Kenyan and Ethiopian runners who had dominated the Monument Avenue 10K from 2000 through 2013 scratched Richmond from their racing itinerary.
Hagen's time last Saturday was the second slowest winning mark on record. The slowest winner was Silas Frantz, who ran the course in 30.46 in 2016.
Frantz, a former state champion distance runner from Henrico County's Douglas Freeman High School, led this year's race much of the way before fading toward the end and finishing third.
The record of 28.18 was set by Kenyan Julius Kogo in 2013.
The women's record of 32.24 was set by Kenyan Magdalene Makunzi in 2007.
Ward's winning time last Saturday was 30 seconds slower than the previous slow winning standard of 35.55 established by Alisa Harvey in the first Monument Avenue 10K in 2000.
None of this likely mattered to Hoverman, who collected $2,500 for her victorious — albeit solo — run in the Dash for the Cash.
Given a 2.6-mile head start on the entire field, she ran her slice of the race in 27.26, crossing the finish line more than 3 minutes ahead of first place finisher Hagen.
The former soccer goalkeeper becomes the 11th Dash for the Cash winner since the inception of the event in 2005. Dash for the Cash participants are selected through a drawing.
Mayor Stoney has become an event regular, although this was his first chance to show off his stride since becoming the city's mayor.
The fit, 36-year-old Mayor Stoney covered the course in 46.59, a bit off his personal best of 45:53 set a year ago.
Mayor Stoney is a former football quarterback and standout middle-distance runner at Tabb High School in York County.
The tallest entry in this year's event likely was Davis, a 6-foot-10 former Virginia Union University basketball standout who went on to play in the NBA from 1989 through 2001.
The 49-year-old Chesterfield County resident used the event's training to help him rehab a back injury. He finished in slightly more than one hour, running and walking with friends.
Davis works out regularly at a Chesterfield County gym and is the father of Ed Davis, who plays with the NBA's Portland Trail Blazers.
Reporting winners and times does not do justice to this gala event.
With bands galore and a party atmosphere, the Monument Avenue 10K is the fourth largest event of its kind in the United States and the 22nd largest in the world in terms of participation.
Numbers have dwindled slightly in recent years by design, to avoid parking chaos and confusion on race day.