Bedden out
Richmond School Board to meet Monday on selection process for superintendent's replacement
4/27/2017, 8:11 p.m.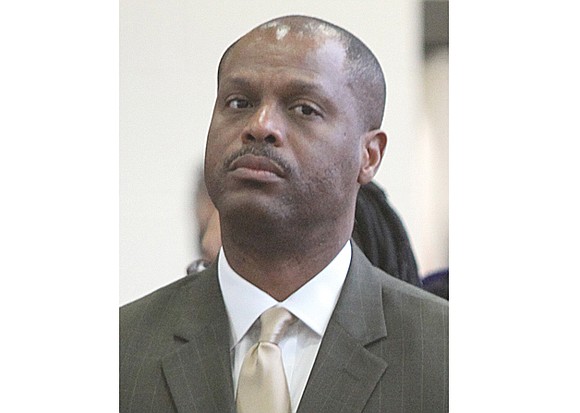 Holly Rodriguez
Just weeks after proclaiming that progress was on the horizon for Richmond Public Schools and that he had no intention of leaving the school system, Superintendent Dana T. Bedden is out.
The Richmond School Board announced last weekend that his contract will end June 30, a full two years before it was set to expire June 30, 2019.
"The board decided to move in another direction as we have philosophical differences," School Board Chair Dawn Page told the Free Press on Tuesday.
"We mutually agreed to separate and terminate his contract early."
The board has been largely a wall of silence since calling a special meeting 6 p.m. last Friday in which members wasted no time going into closed session.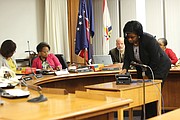 Board member Scott Barlow, 2nd District, who was out of the country in Spain, was connected to the meeting via telephone, signaling the critical personnel issue the board was about to discuss.
After more than three hours, the School Board emerged but released little information. On Saturday, the board issued a three-paragraph statement saying that Dr. Bedden was out.
"The School Board thanks Dr. Bedden for his contributions to our school division and appreciates his service during the past three and a half years to our students, parents, staff and administration," the statement said in part. "We wish Dr. Bedden well."
Specifics of the agreement, including any severance Dr. Bedden may receive, are being negotiated, Ms. Page said.
She said Tuesday she is not at liberty to release any more details or to comment further. She would not say whether Dr. Bedden was fired by the School Board or whether he resigned.
Sources told the Free Press that Dr. Bedden recently applied for a position with the Washington-based American Association of Colleges for Teacher Education and for the superintendent position in Fairfax.
Ms. Page declined to comment when asked about it. Officials with the AACTE did not return phone calls on Wednesday.
Dr. Bedden has not answered repeated Free Press requests for comment.
Rumors swirling on social media about Dr. Bedden's departure also gave rise to speculation that Dallas Dance, a 36-year-old Armstrong High School graduate, may be in the running to replace Dr. Bedden.
Dr. Dance was superintendent of Baltimore County Schools in Maryland, but resigned from his post just two days before the Richmond School Board's closed session.
Ms. Page told the Free Press no candidates have been pre-selected.
The School Board is slated to meet Monday, May 1, when it will receive for action a resolution regarding the superintendent's employment agreement, according to the meeting notice.
Ms. Page said the board will discuss the process for selecting an interim superintendent as well as the national search for Dr. Bedden's replacement.
On Wednesday, the School Board moved to quell disquiet among teachers and staff by issuing a statement saying it is "not unusual for new school boards and superintendents to have philosophical differences about the direction of the school district."
"We understand the sense of uncertainty any transition invokes," the statement continued. "However it is our goal to make this transition as smooth and seamless as possible with no disruptions to class instruction."
The board also stated that it depends on "the invaluable efforts" of RPS teachers and staff "to advance the progress of our students as we continue to chart a steady, accelerated course toward success."
Suggestions from teachers and staff regarding the search for Dr. Bedden's replacement are welcomed, the board said, noting that a survey will be sent to teachers and staff "to help us build a profile of what we are looking for in our next superintendent."
Controversy is nothing new for Dr. Bedden. Public trust in the superintendent took a hit when information surfaced in March that RPS had a $8.3 million budget surplus that had not been disclosed to the current School Board or to Richmond Mayor Levar M. Stoney.
The news fed suspicions that Dr. Bedden and RPS officials were holding back money to improve student programs, offer better instructional tools for teachers in the classroom or address longstanding critical issues of age and disrepair of school buildings.
Most recently, the American Civil Liberties Union of Virginia and the Legal Aid Justice Center announced April 17 that the U.S. Department of Education's Office for Civil Rights will investigate claims of disparate discipline being meted out to RPS' African-American students and students with disabilities.
The probe was launched because of a complaint filed in August 2016 by two RPS students in conjunction with the Richmond Branch NAACP.
In addition, Dr. Bedden's commitment to RPS was called into question in 2015, when it was reported that he was a finalist for the superintendent's job in Boston. Questions rose again this week with his latest alleged job searches that may have been underway even as he told the Free Press in an interview published in the April 13-15 edition that he had no plans to leave.
"I'm sitting here trying to do the job to make the district better," he told the Free Press at the time. "It's an exciting time for RPS."
While many people have expressed disappointment in the superintendent's departure, others have called for major change in the school system and for board transparency in choosing his replacement.
Richmond NAACP President James "J.J." Minor III said the organization thanks Dr. Bedden for his service, but the problems facing RPS need to be addressed immediately.
"I can't point the finger at just Dr. Bedden or just at the School Board," he said. "But the problems facing our schools have been ignored for far too long, and now it is time to pay attention and resolve these issues."
Among those issues: Only 17 of the city's 44 public schools are fully accredited; a slight decline in graduation rates from 81 percent to 80 percent; and a 93 percent attendance rate that has remained flat.
The NAACP circulated via email a copy of RPS' midyear student progress report issued March 20 showing Standards of Learning test scores for 2014-15 in math for students in grades 3 through 8 and in several high school math subjects are all down compared with the previous school year. Scores for science, history and writing also are down.
According to the report, the only glint of hope in SOL scores is an improvement in reading scores, which were up by 1 percentage point.
E. Martin "Marty" Jewell, a former City Council representative and a member of the Richmond NAACP Education Committee, said the School Board has a big responsibility on its hands in choosing the next superintendent.
"Whoever we get next will need to know and understand something about the urban environment from which these children come every day," he said. "Schools alone cannot fix the problem, cannot get the job done. The next person needs to know how to work with communities."
While Mayor Stoney has publicly stated that he believes the School Board has an obligation to publicly explain the decision between the board and Dr. Bedden, he supports the board's decision.
"This transition presents an opportunity, and it starts now," he said to the Richmond Free Press." I will do everything I can to assist the School Board in identifying and hiring its next leader, and continue to work together with the board, City Council, teachers and parents toward our common goal of ensuring the best educational outcomes and opportunities for all our children."