Huguenot High looking to be No.1 in 'futbol'
4/28/2017, 12:55 p.m.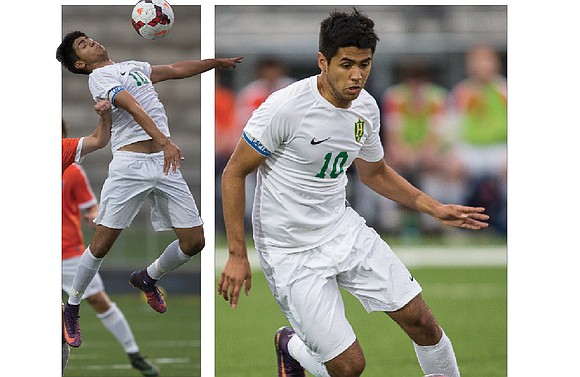 "When you score or assist against a Chesterfield team, you know you have done something," said Alfaro. "Those teams are very good."
Coach Vasquez is confronted with hurdles the suburban coaches aren't likely to face.
For starters, Richmond Public Schools' mandatory 2.0 GPA to participate in athletics often works against his Falcons.
"Many of our players came to Huguenot without a strong academic background," Coach Vasquez said. "They're placed in high school due to their age, but often they're not ready."
Alfaro estimates the team has "lost five or six significant players" because of the academic requirement.
One of the most talented Falcons, who was second-team All-Conference in 2016, dropped out of school prior to his senior year.
"He had to go to work," said Coach Vasquez, shaking his head. "He turned 18 and needed to go to work."
Then there are practice time limitations.
Since most of the players don't drive, they are at the mercy of the Special Activities bus that leaves the school at 5 p.m. However, the bus doesn't run on Fridays, so that's a lost day of practice.
The Huguenot team dominates its opponents from Richmond, but struggles against Chesterfield, Henrico and Hanover teams.
"Still, we're the only city school that can come close" to beating the suburban teams, Alfaro said.
For many years during late 1990s and early 2000s, Huguenot High ruled city football, American style, with numerous district and region crowns, even reaching the state final in 1988. Now it may be time for Falcons futbol — international style — to be No. 1 in the city.