Poor conditions at George Mason Elementary fire up School Board
7/21/2017, 11:59 a.m.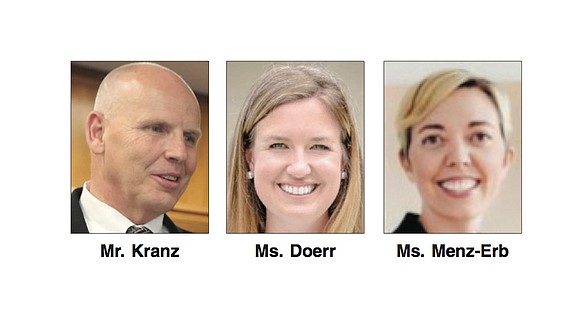 By Saraya Wintersmith
After an unusual, tense public exchange between members Monday night, the Richmond School Board voted to hold a public hearing on Monday, July 31, to discuss the condition of George Mason Elementary School and what to do about it.
Although George Mason boasts prominent alumni, including former Gov. L. Douglas Wilder and former state Sen. Henry L. Marsh III, several officials said the school building at 813 N. 28th St. is easily among the city school district's worst facilities.
Poor conditions at the East End school have garnered more attention from the School Board after about a dozen advocates showed up for a June board meeting wearing surgical masks and pleading for improvements to the school.
At that time, Ingrid DeRoo, site coordinator for Communities in Schools at George Mason, detailed for the board some of the serious issues that students, teachers and staff face at the building, including lack of heat, a natural gas leak and leaky, foul-smelling restrooms that often are only partially functioning.
"Before our students eat breakfast in the classroom, teachers wipe down the desks to remove rodent droppings," Ms. DeRoo told the board in June. "Mice have caused entire classrooms to be evacuated.
"I cannot stress to you enough that the building of George Mason is in a state of emergency. It is unsafe, unsanitary and harmful to our students and staff."
Board members Elizabeth "Liz" Doerr, 1st District, and Cynthia Menz-Erb, 3rd District, have visited several school buildings with interim Superintendent Thomas E. Kranz. Ms. Doerr said the June information, site visits and discussions with Richmond Public Schools' facilities teams made it clear that "swift action" must be taken.
Possible solutions suggested by Ms. Doerr and Ms. Menz-Erb include purchasing trailers to provide temporary classrooms at George Mason, authorizing boiler repairs at an estimated cost of $5 million, reassigning Mason students to several other elementary schools or a combination of changes that may cause a reshuffling of students at Henderson Middle School, Richmond Community High School and Franklin Military Academy.
But board Chairwoman Dawn Page, 6th District, cautioned against hasty action, saying the board was "going down a slippery slope."
With 30 of the district's 44 buildings at least 50 years old and in need of improvements and just more than a month before students are to return from summer break, Ms. Page said there is little time to properly examine the options and come up with the best plan for George Mason.
She also accused Ms. Doerr and Ms. Menz-Erb of moving too quickly to allow the school administration to do its job.
"You want to play politics at the expense of our children," she said.
Ms. Doerr and Ms. Menz-Erb responded, saying their intentions are to address conditions they consider unacceptable.
Ms. Menz-Erb later told the Free Press that she believes the entire board wants a positive outcome, with the differences coming only in the process and timing of improvements at the school.
George Mason, which was built more than a century ago, was the first school for African-American students in Church Hill, which is within the city's 7th District. Nadine Marsh Carter, the board's 7th District representative, a George Mason alumna and the daughter of former Sen. Marsh, did not attend Monday's meeting.
Mr. Kranz stressed Monday night that the challenges at George Mason Elementary represent just a handful in a school system with aging buildings. His main concern, he said, is where George Mason students and staff would go and how that process would be carried out.
"At the end of the day, if we pick up and move our students from George Mason to another building, you then have to pick up that other building and move it to another building," Mr. Kranz said to reporters after the meeting.
In other action, the board voted 5-3 to send revisions to a memorandum of understanding to the state Board of Education before the document is to be approved on July 27.
The memorandum details actions needed to improve the city schools and outlines which agency will be responsible for implementing the changes, monitoring the actions and documenting them, all within a specific timeframe.
The agreement comes after state officials conducted a review and found RPS to be underperforming in most areas, with 27 of the city's 44 schools not fully accredited in 2016-17.
Mr. Kranz, who met with Steven R. Staples, the state superintendent of public instruction, before Monday evening's meeting, sought to reassure the board that the memorandum is not a precursor to state takeover of the city school system.
"It's intended to be a document that's a collaborative document, one that we all are working on for the benefit of the students in Richmond," he said.
"Because all of our schools are not fully accredited, because of the results that they saw within the … review, they believe some things need to be corrected."
Mr. Kranz told the board that if all schools are not accredited within 10 years, the state will place a non-voting member on the Richmond School Board.
He also warned that failure to comply with the provision of the memorandum after its approval by the state Board of Education could result in RPS losing $30 million in state or federal funding.