Della Reese, star of TV show 'Touched by an Angel,' dies at 86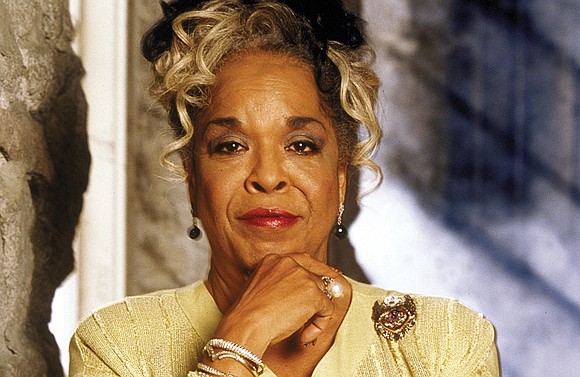 Free Press wire reportLOS ANGELES
Actress and singer Della Reese, best known for her role as Tess, the wise angel in the long-running television drama "Touched by an Angel," has died at her California home.
The 86-year old Ms. Reese "passed away peacefully … surrounded by love" on Sunday, Nov. 19, 2017, her husband, Franklin Lett, and her family said in a statement.
The statement was posted on the family's behalf by Ms. Reese's co-star Roma Downey on her Instagram page.
"Through her life and work, she touched and inspired the lives of millions of people," the statement added.
No cause of death was given, but Ms. Reese suffered from diabetes, which was diagnosed about 17 years ago.
Detroit-born Ms. Reese was trained as a gospel singer. As a youngster, she joined the junior choir at Olivet Baptist Church and became a star soloist there and singing at other churches, civic events and on the radio.
When Mahalia Jackson, who was known as the "Queen of Gospel Music," came to Detroit, she turned to 13-year-old Ms. Reese when she had to replace a member of her troupe. Ms. Jackson was so impressed by the teen's voice that she took Ms. Reese with her on a summer tour. Ms. Reese toured with Ms. Jackson for five summers.
Ms. Reese found fame in the late 1950s and early 1960s with pop and jazz hits like "Don't You Know" and "In the Still of the Night." In 1987, she was nominated for a Grammy Award for best female soloist in the gospel music category.
She had a long career headlining at major nightclubs, including the Copacabana in New York and the Cocoanut Grove in Hollywood. By 1969, she had her own talk show, "Della," the first to be hosted by an African-American woman. She then landed roles in shows like "It Takes Two" and "Crazy Like a Fox."
Ms. Reese also appeared on television shows, including "Sanford and Son," "Chico and the Man" and "Picket Fences," and had occasional roles in movies, including "Harlem Nights" in 1989.
Her biggest part, however, was her role as the sarcastic supervisor angel Tess on the CBS television series "Touched by an Angel," which ran for nine years until 2003. Ms. Reese also sang the title song, "Walk With You."
In the late 1980s, Ms. Reese started a church in her Los Angeles living room. The church, called Understanding Principles for Better Living, known as UP, later moved to its own facilities and Ms. Reese became known as the Rev. Dr. Della Reese Lett.
Her marriages to Vermont Taliaferro and Leroy Gray ended in divorce, while a marriage to Duke Ellington's son, Mercer Ellington, who served as her musical director, was annulled.
She married concert producer Franklin Lett in 1983, and the couple had three children.
No funeral details were available.