Obstacles, inspiration detailed in new book about Maggie Ingram by her granddaughter
6/30/2017, 6:33 a.m.
By Kesha Williams
Joy Harris doesn't remember a time when gospel music didn't play an important role in the lives of her family. 
She grew up hearing her grandmother, mother, aunts and uncles sing some of the most familiar songs in traditional gospel music — "Jesus Cares," "Without God I Could Do Nothing" and "Don't Give Up." 
Those songs were tucked within a soul-stirring collection that led her grandmother, the late Evangelist Maggie Ingram, to perform at countless churches, festivals and concert halls.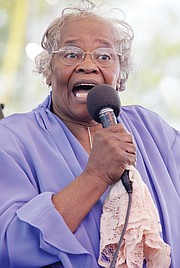 The unmistakable music and message of Maggie Ingram and the Ingramettes forged a decades-long kinship with thousands of gospel music fans in Virginia and beyond.
Ms. Harris, who recalls scenes in her youth of audiences swaying to her grandmother's vibrant music and singing along, has preserved her memories and the group's accomplishments in her recently released book, "Singing Ain't Enough: The Inspiring Story of Maggie Ingram."
"I am so proud of the music they created and the people they touched," Ms. Harris said in a recent Free Press interview. "As you read the book, you will see inspiring things that happened to her and the things she overcame."
As a child, Ms. Ingram began singing in the 1930s in a church choir in her hometown of Coffee County, Ga. She continued singing into adulthood, moved to Miami and later to Richmond, where she raised five children — three boys and two girls — as a single parent.
Initially, her children accompanied the evangelist, and they were known as Maggie Ingram and the Ingramettes. For more than 50 years, she shared her gifts with wide audiences, from local churches and nursing homes to the National Folk Festival and the Kennedy Center for the Performing Arts in Washington.
She received accolades from many, including the Gospel Music Workshop of America's Lifetime Achievement Award, the Dorothy Love Coates Living Legend Award from the American Gospel Quartet Association and the Woman of the Year Award from Greyhound Corp.
Ms. Ingram died on June 23, 2015, at age 84, but the Ingramettes continue today, with four vocalists and three musicians, including her oldest daughter, the Rev. Almeta Ingram-Miller, and her granddaughter, Cheryl Marcia Maroney, Ms. Harris' sister.
Ms. Harris said her grandmother's personality and tenacity helped her reach the hearts of listeners who soon became great fans.
"People had a special taking to my grandmother," Ms. Harris said. "She sang with such conviction," she noted, adding that fans could see that Ms. Ingram deeply believed in God, the Bible and its promises.
"She wasn't just about the music. Music was the top layer of the cake. My grandmother was seen in the community helping people. She also went to prisons to sing to inmates. She was one of the greatest storytellers. She had a way of painting a picture. People connected with her," Ms. Harris said.
During the interviews with her grandmother for the book, Ms. Harris said she learned some unsettling details about Ms. Ingram's life journey and the obstacles to becoming a recording artist.
"The circles she had to move in weren't always open," Ms. Harris explained. "This was a time when women didn't have a place in society. There weren't many open doors for women or black people."
But Ms. Ingram worked hard, her granddaughter said.
"She led her group, booked her group, promoted her group. She bought her own home, opened a day care in her home. She went on to become a radio DJ. She was making strides. She recorded an independent album," Ms. Harris noted.
Through it all, Ms. Ingram was always ready to share a message with her audience that was uplifting and inspiring. She was called "Richmond's Gospel Queen."
"Gospel music is a pick-me-up, a great way of encouraging people," Ms. Harris said. "I knew people would be inspired by her story, so I had to write this book."
It took 10 years, Ms. Harris said, and the assistance of a good editor. In addition to the interviews with her grandmother, she spent hours pouring over numerous resources, learning from other sources and checking facts and stories she heard.
The book is self-published and available through Amazon.
"This story will be liberating, especially for women," Ms. Harris said. "I wanted people to see themselves in it."