Questions, doubt about credibility of Rep. Robert C. Scott's accuser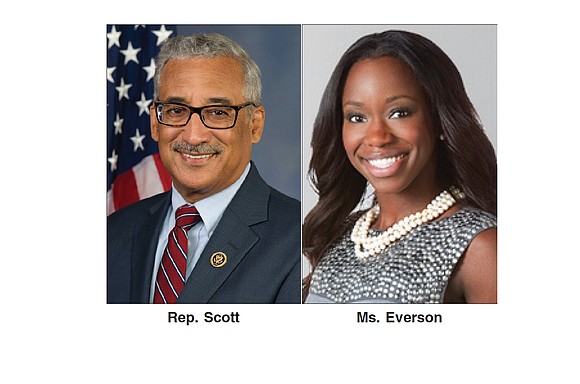 She sought to drop a bombshell.
Instead, Marsheri Reese Everson appears to have completely fizzled with her claim that veteran Virginia Congressman Robert C. "Bobby" Scott, D-3rd, sexually harassed her when she worked in his office more than four years ago.
Since Ms. Everson leveled the charge last Friday in the company of a Republican attorney and lobbyist known for embracing conspiracy theories, doubt has been raised about her credibility.
Meanwhile, Rep. Scott has denied the allegations. And women who have known or worked with the Newport News congressman through the years have rushed to defend his reputation.
Ms. Everson, a 32-year-old non-practicing lawyer who self-published a book on sexual harassment in 2015, claimed during a news conference that Rep. Scott propositioned her for sex and touched her inappropriately as she worked in his office through a Congressional Black Caucus Foundation fellowship.
She said that she quickly "fled" his office to get away, but ended up being fired from a later fellowship position with a congressional committee and blackballed for refusing the advances.
But since 2015, Ms. Everson has told at least three different versions of events. In her book, she did not identify Rep. Scott, stating simply that a congressman made an inappropriate comment but never touched her.
In a recent TV interview, she spoke about being propositioned, but said nothing about being touched.
In a press conference last week with attorney Jack Burkman, the GOP lobbyist, she claimed that she was propositioned and touched inappropriately.
As importantly, the congressman's calendar for May 20, 2013, the date Ms. Everson alleges that he propositioned her, shows Rep. Scott spent much of the day away in Newport News and then returned to Washington to manage two bills on the floor of the House of Representatives and attend a heritage event.
Despite Ms. Everson's claim, she did not present any evidence that they were alone together on that day, nor did independent evidence turn up suggesting they were.
The Free Press also has obtained information that belies Ms. Everson's claim that she was fired from the House Financial Services Committee for failing to accept Rep. Scott's advances.
Instead, the information strongly suggests that she was let go because of poor performance.
The latest in a parade of elected officials, public figures, movie stars and others to be hit with an accusation of sexual misconduct, Rep. Scott quickly branded Ms. Everson's story as false.
"I have never sexually harassed anyone in my 25 years of service in the U.S. Congress, or in my 40 years of public service, or at any other time," stated the 70-year-old dean of the Virginia delegation to Congress in a statement released after Ms. Everson's news conference.
"Sexual harassment and assault are serious issues deserving of critical attention and review," Rep. Scott continued. "No one should be subjected to sexual harassment or be treated unfairly. I have fought to promote and ensure that in my political and professional life, and I live by it personally."
Rep. Scott, a Harvard University and Boston College Law School graduate, served in the Virginia House of Delegates and state Senate for 15 years before his election in 1992 as the first African-American to represent Virginia in Congress since 1890.