Former Rep. John Conyers, the longest-serving black lawmaker in U.S. House of Representatives, dies at 90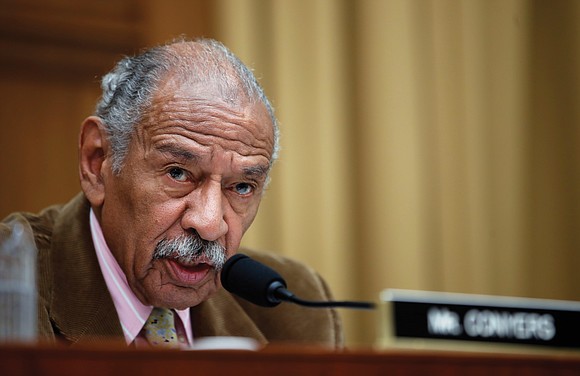 WASHINGTON Former Rep. John Conyers, a liberal Democrat who was the longest-serving African-American member of the U.S. House of Representatives at more than half a century, died on Sunday, Oct. 27, 2019, at the age of 90.
Rep. Conyers joined the House in 1965 and stepped down in 2017, after his reputation was sullied by sexual harassment accusations. The Detroit-area congressman was a founding member of the Congressional Black Caucus.
In a statement released by the CBC, officials said, "Congressman Conyers was more than a founding member. He was a guiding light. We will continue his vision by serving as the 'Conscience of the Congress' in pursuit of justice for all Americans."
"I was deeply saddened by the passing of Congressman John Conyers today," Detroit Mayor Mike Duggan said in a written statement released by his office.
"From co-founding the Congressional Black Caucus to leading the fight in Congress to enshrine Martin Luther King's birthday as a national holiday, John Conyers' impact on our city and nation will never be forgotten," Mayor Duggan said.
Just days after Dr. King was assassinated in 1968, Rep. Conyers introduced legislation to create a federal holiday honoring the civil rights leader. He reintroduced the bill every year for 15 years until President Ronald Reagan signed the King Holiday into law in 1983.
Civil rights pioneer Rosa Parks, who famously refused to give up her seat to a white passenger on a Montgomery, Ala., bus in 1955, worked on his Detroit staff for more than two decades before retiring in 1988.
He was a lead co-sponsor of the Voting Rights Act of 1965. He also was an ardent opponent of the death penalty and fought for Justice Department oversight in cases of police brutality.
According to the CBC, Rep. Conyers was the first member of Congress to introduce the Expanded and Improved Medicare for All Act to establish a government-sponsored, single payer health system option to control costs.
He also was a champion of the issue of reparations for descendants of formerly enslaved people in the United States, and introduced a bill to establish a commission to study the issue of slavery and race relations.
"His fight for justice extended to international issues as well," the CBC stated. "Mr. Conyers was an early leader in the anti-Vietnam War movement, in addition to the anti-Iraq War movement. He was also a vocal opponent of South Africa's apartheid policies," joining the late Congressman Ron Dellums of California and other CBC members in confronting President Nixon about imposing sanctions against South Africa.
"When it became clear (President Nixon) would not act, Congressman Conyers joined Congressman Dellums in intro- ducing legislation to that end and was even arrested at a protest in front of the South African embassy," the CBC stated.
In November 2017, the House Ethics Committee said it was investigating allegations of sexual harassment against Rep. Conyers, who said his office had resolved a harassment case with a payment but no admission of guilt.
The allegations arose as Congress reviewed how to handle sexual harassment complaints and followed a string of similar accusations against prominent figures in the U.S. media, Hol- lywood and politics.