NBA draft looking for a few 'freshmen'
Fred Jeter | 6/24/2017, 1:33 p.m.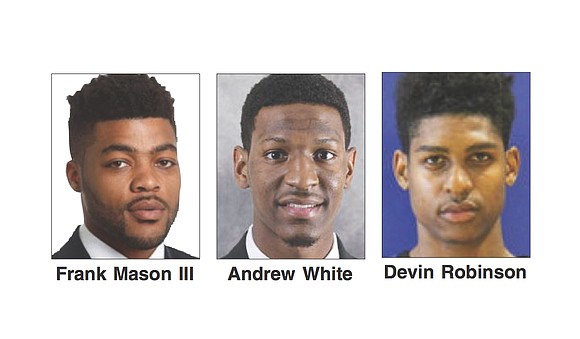 Expect to hear the word "freshman" frequently during the NBA draft on Thursday, June 22.
Names from a list brimming with prospects who have completed just one college season figure to be called early and often.
It is possible the first 10 picks all will be freshmen, with University of Washington guard Markelle Fultz expected to be called first overall by the Philadelphia 76ers. Fultz went to high school at DeMatha Catholic High School in suburban Washington, D.C.
After Fultz, look for these freshmen to be picked in the first round, with many being "lottery picks" — meaning the first 14:
Lonzo Ball and T.J. Leaf (UCLA), Josh Jackson (Kansas), De'Aaron Fox and Malik Monk (Kentucky), Jayson Tatum and Harry Giles (Duke), Jonathan Isaac (Florida State) and Lauri Markkanen (Arizona).
Also, Zach Collins (Gonzaga), Dennis Smith Jr. (North Carolina State), Justin Patton (Creighton), Miles Bridges (Michigan State), Jarrett Allen (Texas) and Robert Williams (Texas A&M).
Clearly, the NBA is choosing raw talent and potential over proven ability. There may be no seniors taken in the first round.
Consensus Player of the Year Frank Mason III of Petersburg, having completed four sparkling years at Kansas, isn't expected to be named until the NBA draft's second round.
The 2006 draft was the first year of the controversial "One and Done" principle — meaning players becoming eligible for the NBA after one year of college.
Prior to that, prep standouts such as LeBron James, Shawn Kemp, Dwight Howard and Kobe Bryant rocketed straight from high school to the NBA.
Local flavor: Mason (Petersburg High) will likely go in round two. Other second round long shots with area ties are Andrew White and Devin Robinson.
White starred at Thomas Dale High School in Chesterfield County and played at Kansas, Nebraska and most recently Syracuse as a senior this past year.
Robinson, who went to Chesterfield's Manchester High School before transferring to Christchurch School, is leaving the University of Florida after his junior year.
Virginia Commonwealth University's All-Atlantic 10 guard JeQuan Lewis and University of Richmond forward T.J. Cline, both seniors this past year, likely will join an NBA Development League team or sign with a team overseas.
The last VCU players drafted were Larry Sanders (15th overall, Milwaukee Bucks, 2010) and Eric Maynor (20th overall, Utah Jazz, 2009).
UR's last draftee was Justin Harper in 2011 by the Cleveland Cavaliers in the second round.
No Cavaliers: This figures to be the first time since 2013 that ACC power University of Virginia will not have a player drafted. Malcolm Brogdon was taken last year, Justin Anderson in 2015 and Joe Harris in 2014.
Foreign legion: International players also figure into the draft. Among those expected to be named early are Frank Ntilikina of France and Germany's Isaiah Hartenstein.
Way back when: The draft began in 1947, when the NBA was known as the Basketball Association of America, or BAA.
The first ever pick was Clifton McNeely, who was taken out of Texas Wesleyan by the Pittsburgh Ironmen. Showing the difference between then and now, McNeely passed on the NBA to take a high school coaching job.
The first African-American picked in the NBA draft was Duquesne University forward Chuck Cooper. He was selected by the Boston Celtics with the first pick in the second round of the 1950 draft. Cooper played at West Virginia State University before transferring to Duquesne.