Armstrong athletes excel at state track and field competition
3/10/2017, 7:27 p.m.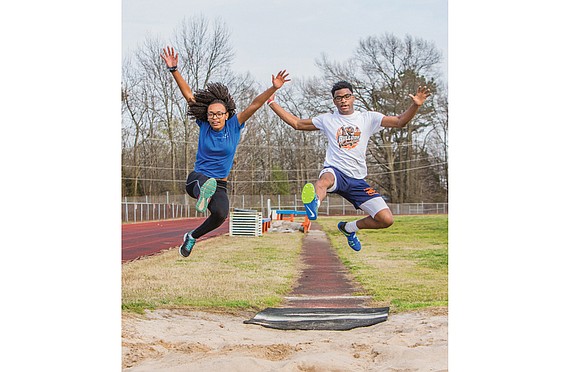 If "Happy" artist Pharrell Williams were to sing of Armstrong High School, it might be titled "Hoppy."
Don't hold back; clap along if you feel like a Wildcat.
Armstrong High juniors Jordin Poindexter and Kendra Scott have bounce-bounce-bounced to the upper tier of Virginia track and field.
Poindexter was state 3A runner-up in both the 55-meter dash and his new-found passion, the triple jump, at the State Indoor Track & Field Championships on Feb. 25 at Roanoke College in Salem.
Meanwhile, the versatile Scott bounded to third place in the 55-meter high hurdles.
Scott seemed destined to wear the Wildcats' blue and orange for veteran Coach Tim Crossin. She's following in the spike marks of her older sister Kaitlin Scott, a former multi-event standout for Armstrong High who now is competing on a track scholarship at Hampton University.
Kaitlin Scott was the MEAC indoor runner-up in the pentathlon earlier this winter in Landover, Md.
"Kendra is a lot like Kaitlin. She has a chance to be just as good, maybe even a little better," said Coach Crossin.
Poindexter reluctantly went out for track. It was an after-thought, an effort to upgrade his football speed and status.
"I used to be slow — well, not really slow, but I didn't think of myself as that fast," Poindexter said.
"I tried track to get faster. It surprised me when I started winning events."
Explosive out of the starting blocks, Poindexter placed second in the 55 meters in 6.55 seconds to Blacksburg High School's Cole Beck, 6.41, at the state competition.
In the triple jump, Poindexter bounded 45-6, second only to Heritage High School of Lynchburg's Tre'Juan Cash, 47-9.
"Jordin scratched on a jump that might have been past 47," said Coach Crossin. "He's got a 47 in him."
The triple jump — once known as hop, skip and jump — is perhaps the most technical of all track events. It requires speed, spring and a hard-to-teach rhythm.
Poindexter wasn't introduced to the event until last spring, but he has been a quick learner.
"Everyone else talks about how hard it is. But it's not that hard to me. My goal is 49-50 this spring," he said.
"Coach Crossin taught me how, showed me what I was doing wrong. Also, I watch a lot of video, trying to learn from jumpers better than me."
Both Scott and Poindexter were sensational last spring at the Conference 26 meet.
Showing her multitasking skills, Scott was first in the 100 hurdles, high jump, pole vault and triple jump. She was second in intermediate hurdles and shot put.
The 6-foot, 168-pound Poindexter went 3-for-3 in the conference meet, claiming the 100 meters, 200 meters and triple jump.
Already Poindexter is credited with the Wildcats school records in the 55 (6.49) and 100 (10.84), according to Milestat.com.
In the triple jump, he is chasing an Armstrong High legend, Ernest Wilford, who sailed to 48-5 in 1998.
Wilford went on to star as a football wide receiver at Virginia Tech and then in the NFL with Jacksonville and Miami from 2004 through 2010.
In the record book, Kendra Scott is looking up to her sister, Kaitlin, who holds a wide variety of records, including for the indoor and outdoor high hurdles.
During the current school year, Poindexter passed on football and ran cross-country during the fall to maximize his conditioning.
"Starting off, I played football and never thought of track," he recalled. "Now I prefer track to football and hope to run track in college."