Chesapeake's Grant Holloway is breaking records all the way to the Olympics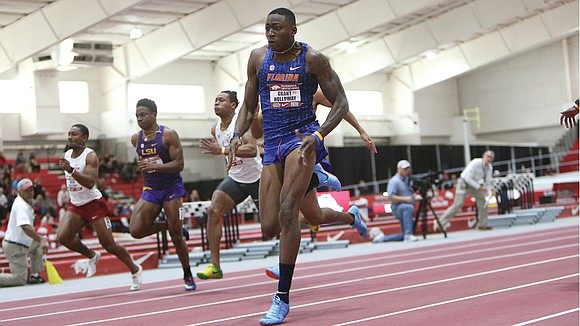 Track and field aficionados in Virginia discovered Grant Holloway years ago. Now the whole country knows.
And in 2020, at the Tokyo Summer Olympics, the world likely will take note.
The nation's premier college athlete first burst from the starting blocks in the Commonwealth of Virginia. Before enrolling at the University of Florida, Holloway was collecting fistfuls of shiny medals at Chesapeake's Grassfield High School. He competed on a regular basis against larger schools in the Richmond area.
At the NCAA Division I Indoor Track and Field Championships in Birmingham, Ala., March 8 and 9, Holloway put on a show that ranks with the most impressive in sports annals.
The 6-foot-2, 190-pound junior won the 60-meter hurdles in 7.35 seconds. He also won the 60-meter dash in 6.50 seconds, was third in the long jump with 26 feet, 1 inch and also ran a leg on the Gators' third place 4x400 relay team.
All that helped Florida, which is coached by Grant's father, Mike Holloway, to the latest in a string of NCAA indoor and outdoor crowns.
Consider this:
Holloway's 60-meter hurdles time broke the American record held by Greg Foster, Allen Johnson and Terrence Trammell. It was the fourth fastest indoor time in history.
Holloway joined Willie Gault and Trammell as the only men to win the 60-meter hurdles and the 60-meter dash at the same Indoor Nationals.
Holloway's 27.5 total point accumulation is second only to the University of Oregon's Ed Cheserek, who piled up 28 points in 2017.
Virginia track fans won't soon forget Holloway's heroics in spikes. He racked up multiple State Class 6 track titles indoors and outdoors for Grassfield High School, competing in sprints, jumps and hurdles.
Although he doesn't typically high jump for Florida, Holloway won a Virginia championship for Grassfield High with a 7-foot, 1-inch leap.
Also at Grassfield, Holloway was a game-breaking football wide receiver. He might be a pro prospect in shoulder pads, but instead has chosen to focus on track for his dad. 
As brilliant as Holloway was at Grassfield High on the track and runways, he was challenged by brothers Noah and Josephus Lyles of T.C. Williams High School in Alexandria.
Coach Holloway used his Virginia connections to sign both of the Lyles brothers, along with his son.
However, before the brothers slipped into a Gators uniform, each inked to run professionally for Adidas. Noah, especially, is an Olympic favorite for Tokyo in the 100 meters and 200 meters.
The college indoor track season leads directly into outdoors. Holloway's flying feet will have little time to touch the ground. His star figures to continue to shine at the NCAA Outdoor Nationals in Austin, Texas, from June 6 through 8 and the USA Track and Field Championships in Des Moines, Iowa, from July 25 through 27.
Following the marquee U.S. meets, next on Holloway's check list are the IAAF World Championships in Doha, Qatar, from Sept. 28 to Oct. 6, and then the Tokyo Olympics in 2020.
No stage seems too bright for this native Virginian.