Pitcher fireballing across bag at The Diamond
5/5/2017, 7:52 p.m.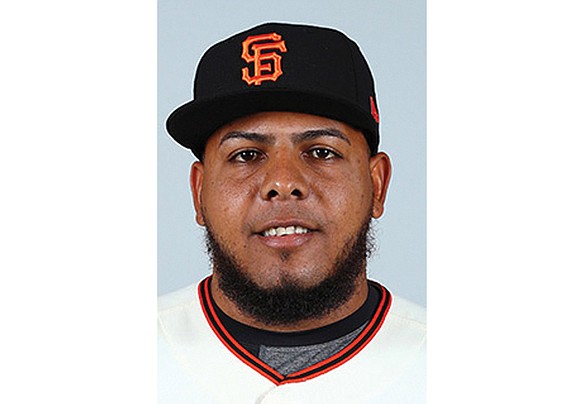 Getting caught speeding on the highway might get you a ticket and a court date.
By contrast, showing off high speeds on the pitcher's mound in baseball might earn you a ticket all the way to the major leagues.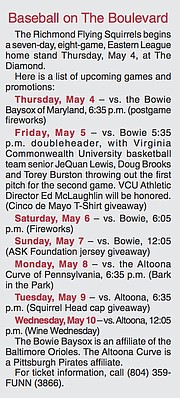 At least that's what Reyes Moronta is banking on as the fireballing, ninth-inning closer for the Richmond Flying Squirrels.
Moronta, who flirts with a 100 mph fastball, does his best work at "closing time" for Flying Squirrels manager Kyle Haines and pitching coach Steve Kline.
Known as the "Caribbean Cannon," the 24-year-old right-hander from Santiago, Dominican Republic, has dominated Eastern League hitters with a hurling arsenal ranging from fast, to faster to look out, here comes triple digits.
Moronta, who signed at 18 with the Squirrels' parent organization, the San Francisco Giants, actually topped 100 mph last season with the Class A San Jose Giants in California.
This spring, as an Eastern League rookie, Moronta consistently hits 96 to 97 mph on the fan-friendly radar gun just beyond The Diamond's centerfield fence. 
"Reyes has an electric fastball that gets on you," said Squirrels Coach Kline.
And that's not all.
"He throws a slurve (combination slider-curve) hybrid breaking ball with accuracy to fool hitters," Kline added.
To show how valued Moronta's lively arm is by the three-time World Series championship San Francisco team (2010, 2012 and 2014), he is one of just two Squirrels on the Giants' 40-man roster. The other is infielder Miguel Gomez.
Moronta is rated the No. 17 overall prospect in the San Fran minor league chain. Listed at 6-foot, 175 pounds, Moronta had appeared in eight games for the Flying Squirrels starting this week, with a team-leading four saves.
In 8.1 overpowering innings, he walked just two batters while striking out a whopping 15. He was not scored on in seven of his eight bullpen assignments.
Moronta came into his own last season at San Jose, where he whiffed 93 batters in 59 frames. For his career, he's fanned 278 batters in 217 innings.
He is the latest Squirrels closer to uncork deliveries in the exclusive 100 mph neighborhood.
In 2014, Hunter Strickland used Richmond as a stepping stone to his current job in the parent Giants' bullpen at AT&T Park in San Francisco.
Last season, Ray Black actually hit 104 mph in an April game at Reading, Penn. Black fanned 53 batters in 31 innings but has been sidelined with arm trouble.
The "Caribbean Cannon's" right wing feels just fine.
That's obvious from rival batters frustrated and embarrassed by his blazing deliveries — and by watching the numbers light up on the outfield radar gun.