'People just want to be listened to,' Sen. Kaine tells VCU grads
5/20/2017, 7:25 a.m.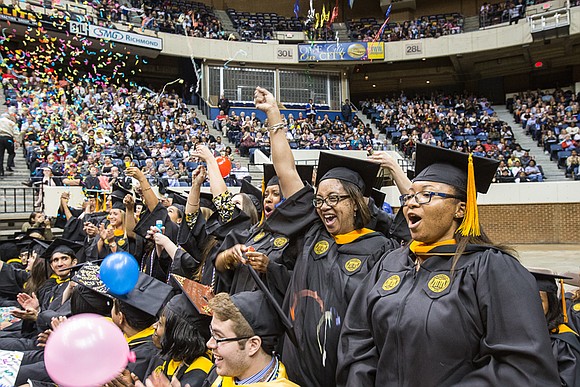 By Thomas Kidd
The graduating class of Virginia Commonwealth University received a message aimed at the head as well as the heart during Saturday's commencement exercises.
University President Michael Rao thanked the graduates for assisting VCU in becoming one of the premier research universities in the country, and then offered a unique twist on how they should continue the learning process.
"Changing your mind is not a sign of weakness," President Rao told the graduates. "But it is a sign that you know more than you knew yesterday."
He went on to encourage them to enter the next phase of their lives challenging generally accepted beliefs, including things they learned at VCU. To further support this view, he quoted George Bernard Shaw, "Progress is impossible without change. Those who cannot change their minds can't change anything."
"We are counting on you," he told the audience at the Richmond Coliseum for the commencement, where more than 5,000 undergraduate, graduate and professional degrees were conferred.
He then introduced the morning's keynote speaker, U.S. Sen. Tim Kaine, a former Virginia governor and former Richmond mayor who ran for vice president in November on the Democratic ticket with presidential candidate Hillary Clinton.
Sen. Kaine said that while he graduated from the University of Missouri and Harvard Law School, he enjoyed a long and intimate relationship with VCU.
"All three of my kids attended VCU and I've been many times to the MCV emergency room," he quipped.
He said he was honest with himself about his role as keynote speaker.
"No one is interested in what a graduation speaker has to say," he continued. "I remember nothing of what my high school graduation speaker said — and I was the speaker."
He said he did, however, remember an after-graduation conciliatory kiss from his ex-girlfriend and also recalled being too cool to hug his parents, offering them handshakes instead.
He advised graduates that before they embark on an evening of celebration, they should reconcile any ill feelings they have with classmates or professors and then to show enthusiastic appreciation to those who helped them to get to this point in their life.

He then detailed three experiences in his life that illustrate the power of listening. A congressional aide impressed him, he said, with her ability to calm ranting constituents simply by allowing them to vent. The second involved a conversation with a Republican colleague in the Virginia General Assembly who he discovered by listening that he had more in common with philosophically than he originally thought.
The last example involved a cultural connection he made while campaigning for vice president. He said he was the first candidate on the national ticket to speak fluent Spanish. And after talking on the campaign trail with voters from a Latino community, he discovered they were not impressed so much by the fact that he could speak with them in Spanish, but that he could listen to them in their language.
"You will find that listening will be involved in many aspects of your success. People just want to be listened to," he said.
Returning to the podium, President Rao let the senator know his words didn't fall on deaf ears.
"Senator, they were listening," President Rao said.
Also at the ceremony, VCU recognized Pamela K. and William A. Royall Jr. with the Edward A. Wayne Medal, which honors individuals who have made outstanding contributions or provided exemplary service to the university.
Sogand Karimian, who majored in nursing, also received the VCU Board of Visitors Award, which recognizes an outstanding undergraduate for academic achievement, leadership and service to the university and community at large.