VCU grads urged to turn adversity into strength
Leah Martin | 5/18/2019, 6 a.m.
This year's graduates of Virginia Commonwealth University have redefined the American dream, university President Michael Rao told a packed audience in opening VCU's commencement ceremony last Saturday.
"Your scholarship, discoveries, advocacy and volunteerism are all redefining the American dream to be more inclusive and cognizant that we live in a world that has changed dramatically since writer James Truslow Adams penned the phrase in 1931," President Rao said.
"Proof of change taking place is in front of us and VCU is where the redefined American dream happens," he said.
Nearly 5,000 graduates received professional, graduate and undergraduate degrees and certificates at the university-wide ceremony, bringing the number of VCU alumni to more than 200,000, according to the VCU public affairs office.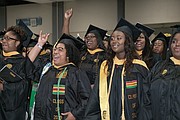 This year's main ceremony took place for the first time at the Greater Richmond Convention Center. The spring commencement had been conducted at the Richmond Coliseum since 1972. But with the future of the Coliseum now put on hold by the City of Richmond, events are no longer being scheduled there.
VCU officials initially announced in October that the university-wide ceremony would be canceled because the usual venue wouldn't be available. But after student protests, the decision was reversed.
Saturday's commencement had a different feel to it, with families and friends seated on the floor of the long, rectangular shaped Convention Center event space. But that didn't deter graduates or attendees or dampen their spirit.
"It doesn't matter to me where the venue is. I am just so happy to be graduating," said Jamari Blackwell of Hanover County, who earned a degree in kinesiology and health sciences.
The keynote speaker, Andrew C. Florance, founder and chief executive officer of CoStar Group, urged graduates to turn adversity into strength.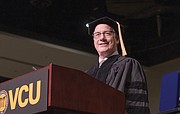 CoStar Group is a leading provider of commercial real estate information, analytics and marketing services in the United States, Canada and several Western European nations. The company, headquartered in Washington, has its operations and global research headquarters in Richmond offices overlooking the James River in Downtown.
As CEO of the company, he leads a team of more than 3,700 employees in 100 offices operating 25 companies, including CoStar, Apartments.com, LoopNet, BizBuySell.com and Lands of America. 
Mr. Florance told the audience about the adversity and major challenges he faced as a youngster growing up in Richmond. He was homeless at age 7, missing more than two years of school. The Richmond Police took custody of him in 1971, one of the last times he would ever see his mother, he said.
At age 12, Mr. Florance was admitted to a music school in New York City, where he said he learned the invaluable lesson of striving for perfection and loathing mediocrity.

With the support of others, a little bit of luck, education and a lot of hard work, his life turned around and led him to where he is today.
He founded CoStar Group from his dorm room as an undergraduate student at Princeton University. Last year, half a billion people from 70 countries used CoStar Group's websites to rent, buy, analyze or finance a trillion dollars of real estate.