VSU going to CIAA championship
What a difference a point makes!
Fred Jeter | 11/10/2017, 7:33 p.m.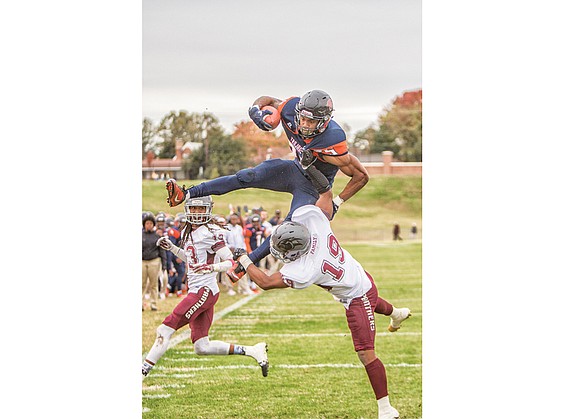 The difference of one point — one skinny point — can fill your heart with joy or break your heart.
Because of one small point, Virginia State University's victorious and still undefeated Trojans are looking forward to the CIAA football championship game and the NCAA Division II football playoffs.
Meanwhile, Virginia Union University's hard-luck Panthers can only sit and wait and cross their fingers.
That's the fallout from VSU's 40-39 victory over VUU last Saturday before a tense Rogers Stadium crowd of 6,320 and national TV audience on Aspire.
For three hours, 54 minutes, old rivals VSU and VUU battled like it was the most important game they had ever played or would ever play.
In the end, the difference was Trojans tailback Trenton "Boom" Cannon, who dove into the end zone with 1:34 left, giving host VSU its one-point edge.
The scintillating senior from Hampton finished with 107 yards and two touchdowns. Not recorded statistically is all the pounding he endured from a feisty VUU defense, determined to make him pay with pain.
VSU's all-time ground gainer, Cannon has 1,387 yards on the season, with possibly two games to go.
Cannon is within striking distance of the CIAA's all-time rusher, Richard Huntley of Winston-Salem State University, who carried for 1,889 yards in 1995.
Cancellation of VSU's game on Thursday, Nov. 9, against Shaw University denies him another shot at Huntley's 22-year-old record.
Beyond that, Cannon might deserve comparison to some of the CIAA's most famous ball carriers, the likes of Leroy Keyes and Frenchy Fuqua (Morgan State University), Emerson Boozer (University of Maryland-Eastern Shore) and LaRue Harrington (Norfolk State University).
Cannon has done a great deal for the Trojans, now 18-2 over the past two seasons under Coach Reggie Barlow.
But even with the explosive Cannon, VSU wasn't able to put any distance between itself and VUU.
The Panthers' quarterback, Darius Taylor, threw for 330 yards and four touchdowns, including two to Gustavious Dames.
A turning point of the seesaw, back-and-forth match was when Dames suffered a leg injury on a penalized illegal hit during the game's second half and was unable to return.
VSU knows it is playing Saturday, Nov. 11, in Salem at the CIAA title game, and likely back at Rogers Stadium on Saturday, Nov. 18, in the NCAA Division II round one playoffs.
VUU, meanwhile, is on the waiting list, hopeful of receiving one of eight regional berths for the NCAA playoffs. There are no guarantees.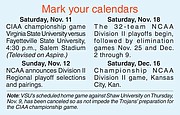 VUU and Carson-Newman University in Jefferson City, Tenn., might be heading to a photo finish for the eighth berth. A deciding factor could be Carson-Newman University's home game Saturday, Nov. 11, against the University of North Carolina-Pembroke. A Carson-Newman victory would give the team an 8-3 record and perhaps the nod over 6-4 VUU.
Whatever happens, the VUU-VSU showdown last Saturday won't be soon forgotten. Years from now, it might be remembered as one of the most riveting CIAA games ever.
At least on the VSU side, no one was in a mood to leave at the game's end. It wasn't over even when it was over. Even when the time on the clock ran out, the VSU Trojan Explosion Marching Band took the field and played on and on, fueled by unrestrained joy.
The VSU Woo Woos, the university's cheerleaders, kept chanting and cheering. The Essence of Troy dance troupe continued moving and grooving. And the crowd, having finally exhaled, hugged and kissed and celebrated with energy left from the draining game. It was an all around party atmosphere.
Meanwhile, VUU fans clinched their jaws and solemnly trudged off into the evening.
Unfair as it may be, that's the difference one point can make.