City welcomes new schools chief
Jason Kamras from D.C. to become next Richmond superintendent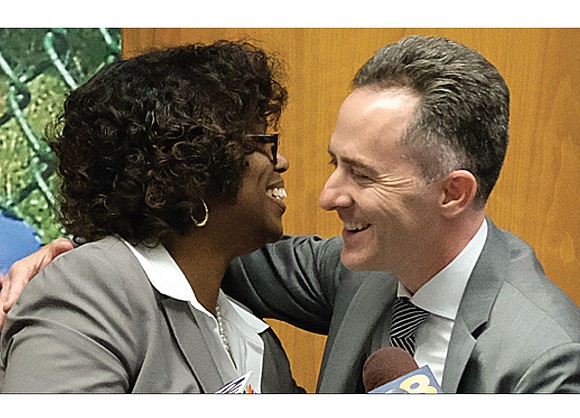 They campaigned on a platform of change for a school system that continues to rank high in dropouts and suspensions and low in student academic achievement.
Now the largely novice Richmond School Board hopes it has begun to deliver with its choice of a novice superintendent to lead Richmond Public Schools.
With a 9-0 vote Monday, the board selected 43-year-old Jason Kamras, a key player in Washington, D.C.'s efforts to deal with similar school issues, as Richmond's next schools superintendent.
The board hopes that Mr. Kamras' experience as a celebrated teacher and administrator — he was the 2005 National Teacher of the Year — will pay dividends for Richmond students in his first foray as a superintendent.
He will be paid a record $250,000 to start, with a contract good through June 30, 2021.
He assumes his duties on Feb. 1.
Mr. Kamras' selection capped a secretive process driven by a 26-member selection committee.
In contrast to four years ago when his predecessor, Dr. Dana T. Bedden, was chosen, the current School Board declined to hold a public meeting to showcase the three finalists and receive public input on the choices before the final vote.
School Board Chairwoman Dawn Page is enthusiastic about Mr. Kamras leading the city's public school system of 24,000 students, the majority of whom are African-American.
In her introduction after the vote, she called Mr. Kamras the ideal candidate based on his "nationally acclaimed work to attract, retain and develop outstanding teachers and principals, his innovative efforts to improve instruction for all students in D.C. and his laser-like focus on equity."
In his first remarks to a crowd of well-wishers, Mr. Kamras, who earned his undergraduate degree at Princeton and master's at Harvard, vowed to make "excellence" the hallmark of his administration.
He wants to mold RPS into a school system everyone would admire, a place where all of the children are " loved and nurtured, have their unique identities affirmed and celebrated, are engaged in rich and rigorous learning every single day and secure the academic, emotional and social skills they will need to achieve their greatest aspirations."
Mr. Kamras said he would strive to achieve that kind of school system in Richmond to ensure students "have the skill, passion and self-confidence to pursue their dreams."
He said he also believes that public education has to be more than "good instruction." It also must be about "creating a more equitable society," he said, that removes the biases and barriers that block the achievement of students of color, children with special needs and those for whom English is not a native language.
He did not mention Richmond's rundown facilities. He comes from the Washington system that has invested $4 billion to upgrade public schools since 2007 and plans to invest another $1.2 billion by 2022.
Mr. Kamras has spent his entire 21-year career with the D.C. Public Schools, including nearly 11 years as a teacher at a struggling middle school where his innovative method of merging photography and art with math instruction earned him top national recognition in 2005.