Basketball's Connie Hawkins was ahead of his time
10/13/2017, 12:03 a.m.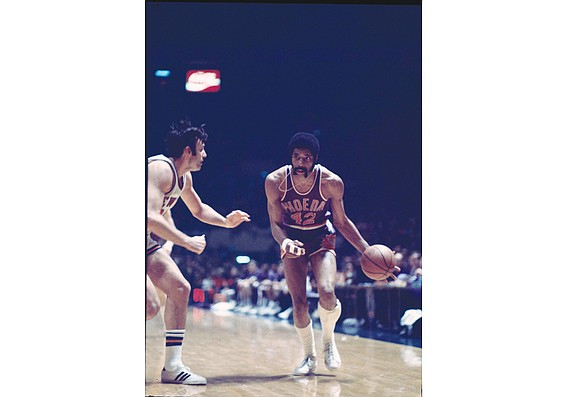 Connie Hawkins took a long and winding road to the Naismith Basketball Hall of Fame — but somehow he made it.
The extraordinarily talented Mr. Hawkins died Friday, Oct. 6, 2017, at his home in Phoenix following a long illness at age 75. He was diagnosed with cancer in 2006.
Mr. Hawkins played much of his career in the shadows, a victim of unsubstantiated suspicions.
He was blackballed permanently from NCAA basketball and banned from the NBA for many years due to never-proven links to college point-shaving scandals.
Finally, he became a 27-year-old NBA "rookie" in 1969, having already undergone major knee surgery.
Debuting with the Phoenix Suns in 1969-70, he averaged 22 points, nine rebounds and four assists. In seven NBA seasons, Mr. Hawkins averaged 17 points, 8 rebounds and four assists, and was a four-time All-Star.
He was inducted into the Hall of Fame in 1992.
From Boys High in Brooklyn, N.Y., Mr. Hawkins was a 6-foot-8 forward with enormous hands that enabled him to grip the ball like a grapefruit.
His nickname, "The Hawk," was as much about his soaring, swooping dunks as for a play on his name.
Fellow Hall of Famer Larry Brown, who coached Mr. Hawkins in the old ABA, put it like this:
"He was Elgin before Elgin, Julius before Julius, Michael before Michael. He was simply the greatest individual player I've ever seen."
Brown was referring to all-time greats Elgin Baylor, Julius "Dr. J" Erving and Michael Jordan.
Desiring to get far away from New York City, Mr. Hawkins signed with University of Iowa in 1960. At the time, freshmen were ineligible for varsity competition.
He couldn't quite get away from New York, however. During the 1960-61 season in which he did not play, he received $250 from Jack Molinas, who had alleged ties to the New York underworld.
Molinas, an old friend of Mr. Hawkins from Brooklyn, vowed the gift had nothing to do with basketball and even said Mr. Hawkins' brother, Fred, paid him back promptly.
The timing was all wrong, however.
College basketball was still reeling from the infamous point-shaving scandal from 1947-1951 involving several New York area schools, specifically City College of New York.
No wrongdoing was ever proven against Mr. Hawkins, but he was young, black and vulnerable, and seemed like the kind of talent from an underprivileged background the gamblers might target.
Outside basketball's mainstream, soon he was looking for work. He toiled in the lesser American Basketball League and American Basketball Association, and hooked up four seasons with the comical Harlem Globetrotters.
His plight inspired a book, "Foul: The Connie Hawkins Story," by David Wolf.
Mr. Hawkins took legal action against the NBA and, finally, was awarded a $1.6 million settlement in 1969. His rights were assigned to expansion Phoenix, but only after having missed many prime seasons.
Following his death, the Suns made this statement:
"The Hawk revolutionized the game and remains to this day an icon of the sport and one of basketball's great innovators.
"His unique combination of size, grace and athleticism was well ahead of his time."