Afrikana Independent Film Festival starts Friday
9/15/2017, 11:50 a.m.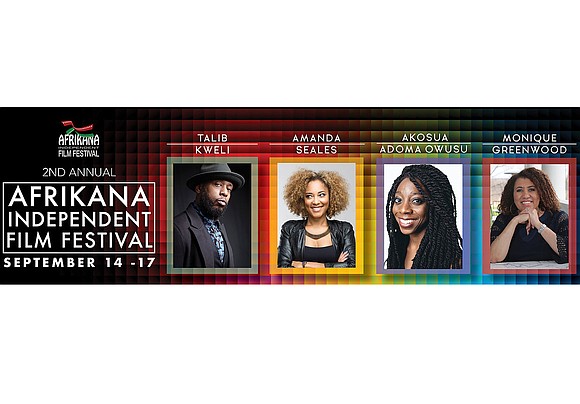 Forty films from four continents over three days, all featuring black artistic expression.
That's what will be on hand at the 2nd Annual Afrikana Independent Film Festival.
The festival returns this week with a full slate of films, discussions and parties.
Created and managed by Enjoli Moon, the festival runs Thursday, Sept. 14, through Saturday, Sept. 16.
The festival launches with a reception and preview screening of "Checked Inn" 7:30 p.m. Thursday at the Black History Museum & Cultural Center of Virginia in Jackson Ward.
"Checked Inn" is a new reality show set to air on the Oprah Winfrey Network. The show features guests at a bed-and-breakfast owned by Monique Greenwood, former editor-in-chief of Essence. A star in the show, she will be on hand for the post-discussion.

The event also will feature the debut of the "Love Jones RVA" exhibit of Jonathan Kirven's photographs of loving African-American couples.

On Friday, Sept. 15, the festival will showcase "Chasing Trane," a film on the life and times of jazz artist John Coltrane, followed by a discussion featuring Brooklyn-based hip-hop artist Talib Kweli, Richmond funk artist Plunky Branch and Richmond open-mic poetry hostess Lorna Pinckney.
The screening is 7 p.m., with an after-party that Mr. Kweli will DJ at The Hofheimer Building, 2818 W. Broad St.
On Saturday, short films will be showcased at six Downtown venues between noon and 6 p.m. and then wrap up with a evening show, according to the schedule.
The finale will include a screening of the 2016 film "Insecure" about the trials and tribulations of an African-American woman, followed by a discussion featuring actress and comedian Amanda Seals and an after-party she will DJ.
The finale will be 7:30 p.m. at the Grace Street Theater, 934 W. Grace St. on the campus of Virginia Commonwealth University, with an after-party at The Hofheimer Building.
Saturday's locations for the short film showings include the Black History Museum, 122 E. Leigh St.; Candela Books and Gallery, 214 W. Broad St.; Elegba Folklore Society, 101 E. Broad St.; The Bijou, 304 E. Broad St.; and the 1708 Art Gallery, 317 W. Broad.
The sixth venue, Art 180, 114 W. Marshall St., will offer programming for young people.
Details and tickets: www.afrikanafilmfestival.org.