NASA names Hampton center for Katherine Johnson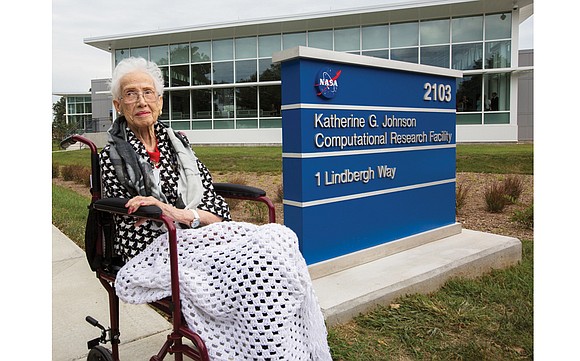 Free Press staff report
Katherine G. Johnson, the pioneering Virginia woman whose key role in America's early space missions was portrayed in the Oscar-nominated film "Hidden Figures," has received a new honor.
NASA's Langley Research Center in Hampton dedicated a new building last Friday named for Mrs. Johnson.
The new Katherine G. Johnson Computational Research Facility, a state-of-the-art lab for innovative research and development supporting NASA's exploration missions, was opened with a ceremony attended by the 99-year-old Mrs. Johnson, her husband, retired Lt. Col. James Johnson, her two daughters, and a host of officials. Among them were "Hidden Figures" author Margot Lee Shetterly, Gov. Terry McAuliffe, U.S. Sen. Mark Warner and Langley Center Director David Bowles.
In remarks to the assembly, Gov. McAuliffe called Mrs. Johnson a trailblazer.
"Thank goodness for the movie and the book that actually came out and people got to understand what this woman meant to our country. I mean, she really broke down the barriers," he said.
A brilliant mathematician, Mrs. Johnson defied racial and gender constraints and was involved with many of the greatest achievements in space. Her calculations — done by hand — delineated the trajectory needed to get astronauts into space. Her work influenced every major space program — from America's first manned space flight by Alan Shepard in 1961 to Apollo 11 and Neil Armstrong's landing on the moon in 1969 all the way to the Space Shuttle program.
Mrs. Johnson worked at NASA Langley from 1953 until she retired in 1986. She and other women in her division were known as "human computers." Her important role in the space program was brought to wide public attention by actress Taraji P. Henson, who portrayed Mrs. Johnson in the film released in January.
Former President Obama awarded her the Presidential Medal of Freedom in November 2015.
Mrs. Johnson, who now uses a wheelchair, toured the $23 million, 37,000-square-foot facility before the ribbon cutting. Dr. Yvonne Darlene Cagle, an astronaut, greeted her.
"She is the bar that I'm trying to scale. In comparison, space is easier because she did everything I'm trying to reach for, but she did it here in gravity," Dr. Cagle said.
NASA officials said the new lab consolidates five data centers and more than 30 server rooms at Langley. It also will be used to boost the space agency's efforts in modeling and simulation and studying challenges such as turbulence and the entry into another atmosphere, like that of Mars.
In her keynote address, Ms. Shetterly said the women laid the foundation for the new facility.
"We are living in a present that they willed into existence with their pencils, their slide rules, their mechanical calculating machines, and of course, their brilliant minds," she said.
While people now know about Mrs. Johnson's contributions to space travel and exploration, Ms. Shetterly continued, "without her past, full of diverging roads and choices that made all the difference, we would not be standing on the brink of this future," she said.