NASA pioneer Katherine Johnson takes her place among the stars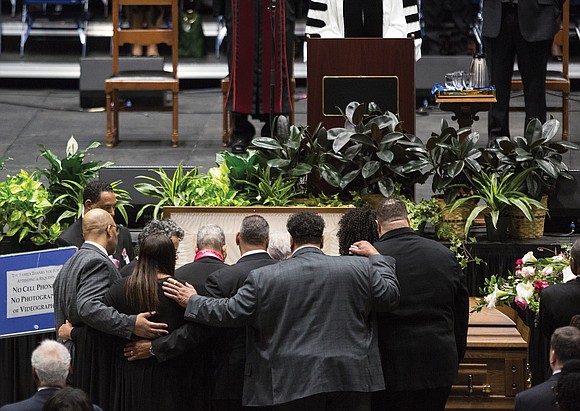 HAMPTON - Three African-American astronauts joined hundreds of other mourners Saturday, March 7, at a funeral service for trailblazing mathematician and NASA pioneer Katherine G. Johnson.
Mrs. Johnson, who calculated rocket trajectories and Earth orbits for NASA's early space missions and was later the subject of a book and portrayed in the 2016 movie "Hidden Figures," about pioneering black female aerospace workers, died Feb. 24, 2020, at the age of 101.
More than 700 people attended the service at the Hampton University Convocation Center.
Astronaut Leland D. Melvin, a Lynchburg native who earned his undergraduate degree from the University of Richmond and a master's from the University of Virginia, said he first met Mrs. Johnson through the National Technical Association, an organization of minority technical professionals who encourage youngsters to enter STEM fields and mentor young professionals in those areas.
He was a young engineer at NASA-Langley in Hampton in the late 1980s and Mrs. Johnson had retired just a few years earlier.
She became like a mother to me," Mr. Melvin said. "She stood in the gap between the known and the unknown.
"I think about the journey that she's going on now," he continued. "We can't calculate the speed that she's traveling to get to heaven."
Mr. Melvin was joined by fellow astronauts Dr. Yvonne D. Cagle and Dr. Mae C. Jemison, the first African-American woman in space.
Mrs. Johnson was remembered not just as a brilliant mathematician whose calculations helped put astronauts on the Moon, but as a faithful church leader and loving mother and grandmother who was humble and never boasted about her groundbreaking work at NASA.
"Grandma, because of you, our world will forever be unlimited," grandson Michael Moore said. "And because of you, I have no bounds."
Her family received an outpouring of tributes, some of which were read during the service, includ- ing from former President Obama, who awarded her the Presidential Medal of Freedom in 2015, First Lady Melania Trump, U.S. Sen. Mark R. Warner and the international president Alpha Kappa Alpha Sorority, which Mrs. Johnson joined as a student at West Virginia State College in 1935.
Clayton Turner, director of NASA's Langley Research Center, spoke at the service and presented Mrs. Johnson's family with the flag that was flying over the center the day she died.
Third District Congressman Robert C. "Bobby" Scott, said during the service that he knew Mrs. Johnson and her second husband, retired Lt. Col. James "Jim" Johnson, for years before he ever read Margot Lee Shetterly's book "Hidden Figures'" about Mrs. Johnson and her colleagues' work as "human computers."
"There are few people who fought as good a fight, finished as difficult a course and all along kept the faith as Katherine Johnson," Rep. Scott said.
In his eulogy, Dr. Brian K. Blount, president of Union Pres- byterian Seminary in Richmond, said he was a young minister starting out at Carver Memorial Presbyterian Church in Newport News when he met Mrs. Johnson, a member of the church who sang with the choir, mentored young people and served as chair of the church finance committee.
He said he knew nothing about her role and accomplishments at NASA and for the nation, but she treated him, a nervous 24- year-old, like he had been preaching for decades.
"She honored me the way she should have been honored when she was first starting out," Dr. Blount said. "Her genius and legend may have been hidden from me, but not her abiding faith, not her genuine love."