Actor Michael B. Jordan in spotlight for athletic role in 'Creed II'
Fred Jeter | 12/28/2018, 6 a.m.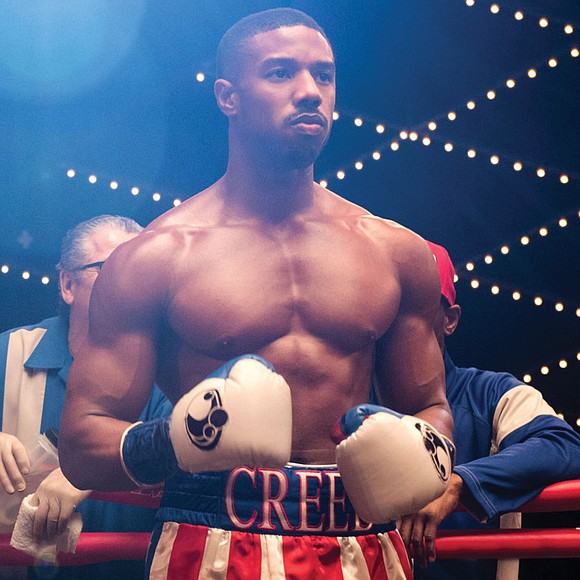 It could be that the most talked about Michael Jordan nowadays isn't Michael Jordan the athlete, but Michael Jordan the actor.
Michael Bakari Jordan has scored a cinematic knockout for his role as a boxer in "Creed II," a sequel to the original 2015 film "Creed," a continuation of the "Rocky" movies.
In the latest film, Jordan, a 31-year-old native Californian who grew up in Newark, N.J., is cast as Adonis Creed, son of fictional boxer Apollo Creed. Having become heavyweight champ, Adonis trains in the movie under the tutelage of screen boxing icon Rocky Balboa, played by Sylvester Stallone. Adonis' training is all in preparation to face his brutal challenger, Viktor Drago, played by Florian Munteanu.
Here's the plot:
In 1985 during "Rocky 4," Apollo Creed lost his life in a bloody, brain-rattling ring battle with Ivan Drago, the father of Viktor, who was played by Dolph Lundgren.
In "Creed II," Adonis seeks to avenge the death of his father in his match against the son of the man who gave Apollo a merciless beating.
There are two Adonis-versus-Viktor fights in "Creed II," the first in Brooklyn, the second supposedly in Moscow.
Moviegoers are wowed by Jordan's powerful, chiseled physique. Since the original "Creed," he has maximized muscularity while minimizing body fat — sort of Body by Michelangelo.
Jordan's carved abs resemble an old-fashioned washboard. Then there are the boulder shoulders and waist of a ballerina.
In real-life workouts under celebrity trainer Corey Calliet, Jordan said the goal was to get "lean" and "shredded."
"I worked out maybe three or four times a day," he told US Weekly. "I ate four or five times a day — lots of brown rice, chicken and broccoli. I just really wanted to be defined. I wanted to evolve on the look we gave in 'Creed I' and really raise the bar this time around."
Unlike Michael Jordan the iconic basketball player, Michael B. Jordan has a modest athletic resume. He played basketball and baseball at Arts High School in Newark, N.J., but was not a star. He got into tap dancing and modeling at a young age before pursuing a career in television and film.
"Creed" wasn't his first athletic role. Jordan played the part of Jamal in the 2001 movie "Hardball" about an inner-city baseball team. He also played quarterback Vince Howard in the 2009-2011 TV series "Friday Night Lights."
Jordan's other notable roles were as N-Jakada/Erik "Killmonger" Stevens in the film "Black Panther" in 2015 and as Oscar Grant in "Fruitvale Station" in 2013.                    
Despite his jaw-dropping physique, Jordan is viewed as the underdog in "Creed II." At 6-feet, he is towered over by the 6-foot-4 Drago with camera angles and tricks making the difference look much greater. Drago is depicted as an assassin in gloves, with no sense of humor.
Much is made of Adonis Creed growing up in a single-parent family. He never knew his famous boxing father until adulthood, long after Apollo's death. In the film, he grew up with the last name Johnson. His on-screen mother is played by Phylicia Rashad.
Also in the film, Creed and his wife, Bianca, played by Tessa Thompson, deal with the anguish of having a newborn baby with a disability. There are tears galore.
Then there are Creed's multiple boxing injuries that resulted in an extended hospital stay and lingering side effects — physical and emotional — accompanying such a mauling.
Some have labeled Creed as "the black Rocky" or "the millennial Rocky." There have been five Rocky movies, plus a sixth titled "Rocky Balboa" in 2006. There was always another menacing challenger lurking on the horizon, wanting to cut Rocky down to size.
With that thought, don't be surprised if this isn't the last you've seen of Adonis Creed.