Rep. A. Donald McEachin energizes crowd at Community Leaders Breakfast
1/19/2018, 6:49 p.m.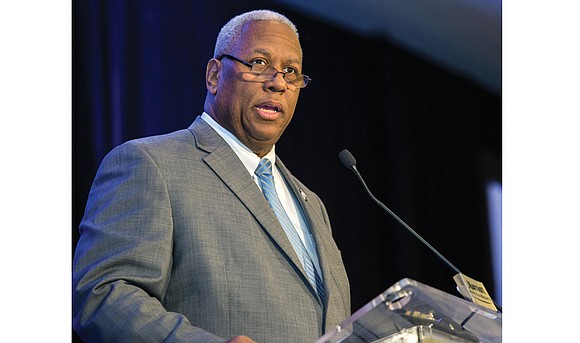 By Brian Palmer
Congressman A. Donald McEachin got serious — and spiritual — very quickly last Friday as he launched his keynote address at Virginia Union University's 40th Annual Community Leaders Breakfast.
"The trouble that we have now is … we have leaders who do not keep the needs of the people holy," Rep. McEachin told the audience that included an array of elected officials, activists, corporate executives, nonprofit agency staffers, law enforcement officers and others.
"We failed to expand Medicaid. We failed to reauthorize the Children's Health Insurance Program. We used DACA children as a bargaining chip for an $18 billion wall that we were told that someone else would pay for."
And then Rep. McEachin zeroed in on President Trump, without speaking his name.
"We have a leader who's concerned with the size of his hands and the size of his buttons. We have representatives who are not concerned with the attack that the Russians launched on our nation, but only about their re-election. And perhaps the most damning of all, we have a tax plan that gives $1.5 trillion to the wealthiest 1 percent of Americans. Indeed, these are troubled times," he said, solemnly.
The annual event, which drew more than 700 people to the venue at a Downtown hotel, honors the legacy of Dr. Martin Luther King Jr.
Rep. McEachin gave a nod to his pastor, Dr. John W. Kinney, former dean of the VUU School of Theology and a guest at the breakfast, for reminding him of the portion of the Bible dealing with Jesus and Barabbas, the prisoner favored by the crowd over Jesus when asked by Pontius Pilate whose life should be spared.
Dr. Kinney had delivered a sermon on that Scripture after President Trump's election, Rep. McEachin said.
"This was not the first time that a group of people had been tricked into electing someone … or asking for someone that was counter to the gospel of Jesus Christ," Rep. McEachin recalled of Dr. Kinney's sermon. "He wanted us to remember that this has happened before. It happened when they asked for Barabbas.
"Here's the good news," the 4th District congressman, who also has a master's of divinity from the VUU School of Theology, said, "that even in the midst of a Barabbas moment, the seeds of resurrection Sunday are planted."
The audience applauded.
He urged people to cast votes for candidates who will "make sure that the power to declare war rests with Congress," not with a president who claims to be a stable genius."
He appealed to the audience to stand with those on the margins of society and against those who "defend Trumpism and the divisiveness that comes with it."
Among the event's other speakers were Mayor Levar M. Stoney; U.S. Sen. Tim Kaine and Congressman Robert C. "Bobby" Scott; VUU President Dr. Hakim J. Lucas; Corshai Williams, the VUU student government president; Gov.-elect Ralph S. Northam and Lt. Gov.-elect Justin E. Fairfax; and Diane Leopold of Dominion Energy, a sponsor of the breakfast.
Vivian Paulina Wilson McNorton, VUU Class of 1945, and the Rev. Tyler C, Millner, pastor of Morning Star Holy Church in Martinsville, received Lifetime of Service awards.
Outgoing Gov. Terry McAuliffe took a rousing victory lap at the breakfast, which was held during his final day in office. He proudly detailed his accomplishments on behalf of the state to an applauding crowd — a large budget surplus, 200,000 new jobs, the lowest unemployment in a decade, among others.
"I own the record of the most vetoes of any governor in the history of the Commonwealth of Virginia — 120," Gov. McAuliffe said. "I told my legislature, if you pass bills that discriminate against women, LGBT members, you hurt our environment, you hurt labor unions, you take away voting rights from individuals, I'm going to veto them. And I did."
The breakfast had its lighter moments.
"I was remarking as I was walking around how this doesn't look like a 7-o'clock-in-the-morning crowd," Mayor Stoney joked. "It's like a 7-o'clock-in-the-evening crowd. That's how much energy we have in the room today. "