Nerves on edge as smoking ban takes effect in RRHA housing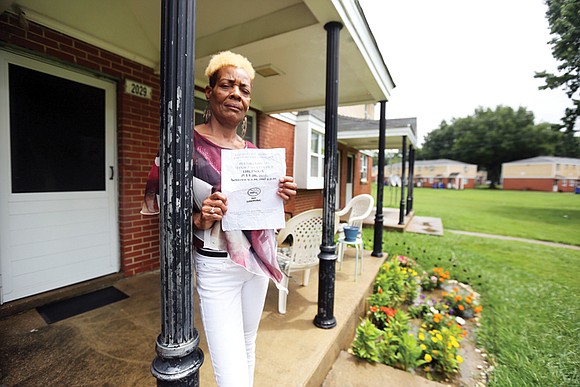 Gwendolyn Harris doesn't smoke. But the 54-year-old Creighton Court resident is concerned that friends in the East End public housing community who do soon may have to choose between their nicotine habit or facing fines and potential eviction.
She expressed her concern just days before a smoking ban goes into effect Monday, July 30, at government-owned housing in Richmond and across the country.
Ms. Harris is one of the few residents to publicly oppose the ban on smoking inside public housing apartments and within 25 feet of any window, door, balcony or staircase of such property.
"I agree that smoking is an addiction and that the (Richmond Redevelopment and Housing Authority's) offer of help to those residents to quit was a great gesture," Ms. Harris stated in a letter to the Free Press.
"The problem is for residents who continue to smoke and who will need to go outdoors and be 25 feet away from their residence," she continued, noting they may be risking their safety and lives because many of the public housing communities are "crime infested."
"There are a lot of issues and gunshots. People often smoke to calm their nerves after they hear gunshots, but now they won't be able to do that indoors."
Ms. Harris' plea to the U.S. Department of Housing and Urban Development to hold off imposing the ban "until further research is done on the impact and effect" of the new regulation appears to be a forlorn hope.
Dr. Ben Carson, the HUD secretary, has refused to halt implementation of the Obama-era regulation banning smoking, one of the rare policies of former President Obama that the Trump administration has embraced.
The regulation that went into effect after President Trump took office gave public housing authorities 18 months to implement it. That time limit runs out next week.
Orlando Artze, RRHA's interim chief executive officer, and his staff have been telling residents that the change is coming and that RRHA has no choice but to impose the ban.
He said RRHA has no plans to have a force of "smoking police" to enforce the policy, but reports of smoking within units or in lobbies, staircases and other areas close to apartments will be investigated.
Ms. Harris said she and other residents are expecting RRHA to have some enforcement mechanism.
"They always tell us one thing and do another," she said. "Trust is not really very strong."
RRHA officials have said the authority would impose a $100 fine for the first proven violation, issue a stern notice of noncompliance for a second violation and begin eviction proceedings if there is a third documented violation within 18 months.
In Ms. Harris' view, HUD and RRHA are imposing the ban to distract attention from the failure to repair or replace old boilers and other crucial heating equipment that is no longer functioning at RRHA buildings.
She also said she thinks the ban is the first step in clearing out public housing residents to make way for new developments from which people like her would be excluded.
For HUD, though, the new regulation is considered a way to improve residents' health by either getting them to quit smoking or at least reducing the impact of second-hand smoke on children who live with smokers. By forcing smokers to go outdoors, HUD is hoping to reduce apartment fires and save money when they must paint or renovate units sullied by smoking.