Rev. Billy Graham, evangelist, presidential confidante and supporter of Dr. King, to be laid to rest March 2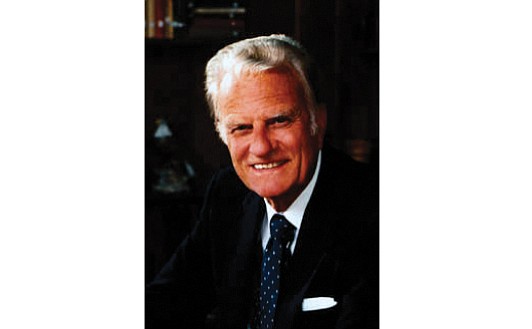 Free Press wire report
CHARLOTTE, N.C.
Thousands of people from all walks of life filed slowly past the casket of the Rev. Billy Graham on Monday to pay their final respects to a man who reached millions with his message of salvation through Jesus Christ.
The heavy rain overnight tapered to a light, occasional drizzle around 8 a.m. Monday when the doors opened to the boyhood home of the famed evangelist, who died Wednesday, Feb. 21, 2018, at age 99.
Rev. Graham built evangelicalism into a force that rivaled liberal Protestantism and Roman Catholicism in the United States. Called "America's Pastor," he eventually would preach to an estimated 210 million people in person with his rallies that he called "crusades" and touched many more around the world through his pioneering use of primetime telecasts, network radio, daily newspaper columns, evangelistic films and satellite TV hookups. He became a confidante of presidents and other leaders.
Mourners of all races, young and old, some in suits and some in T-shirts and flip-flops, walked through the parlor where his closed casket lay on a black pedestal. They walked past family photos and a cross made of white lilies to see the simple plywood container made by prison inmates.
And at the door for the first few hours was Rev. Graham's grandson, Roy Graham, shaking the hand of every person who came to pay respects to his grandfather.
"I just wanted to tell them how much I appreciated the love for my family,'" Mr. Graham said.
And they responded with stories. Mr. Graham said what moved him the most Monday were the dozens who paused and told him the exact moment and place Rev. Graham came into their lives through his hundreds of crusades around the world.
Cecily Turner is one of them. Her mother was at Rev. Graham's 1957 New York crusade and she said he led her mother to salvation that day.
"I know she is in heaven thanking him right now," she said.
Mother passed her faith on to daughter, and Ms. Turner said she passed it down to her five children and four great-grandchildren.
"That's an amazing thing," she said.
Born in 1918 on the family farm near Charlotte, Rev. Graham grew up in a South strictly divided by race. He had a complicated role in race relations, particularly when confronting segregation in his native South.
In Alabama for one of his evangelistic crusades in 1965, just months after passage of the Civil Rights Act, Rev. Graham talked about the Confederate flag flying "proudly" atop the state Capitol and the fact that both of his grandfathers served as rebel soldiers, according to a recording available on his ministry's website. He didn't address the evils of segregation directly, talking instead about God's unique power to change people and communities.
But Rev. Graham also drew scorn from segregationists for speaking to racially mixed crowds and allowing black people and white people to mingle during the trademark altar call that ended each service.