VSU's Aaron Harris becoming a heavy hitter
Fred Jeter | 3/23/2018, 9:37 a.m.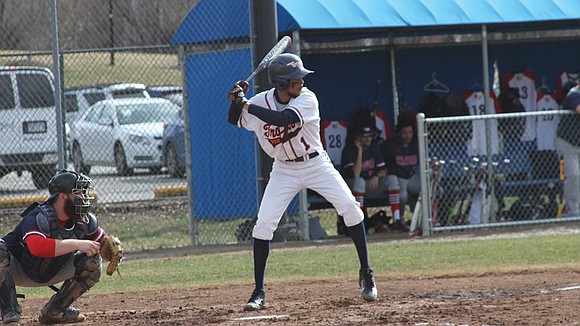 Aaron Harris has compiled some batting statistics even the great Hank Aaron would be proud of.
Baseball fans are familiar with Hall of Famer Hank Aaron, who set numerous slugging records — most notably with a former record 755 homers — largely with the Atlanta Braves.
Now let's meet Virginia State University's Aaron Harris, who just happens to hail from Atlanta.
The red-shirt sophomore third baseman has both the name and the game to draw attention.
In helping VSU to a 12-5-1 start, Harris was hitting a pretty as a peach — .482 (27-for-56), with seven doubles and 20 runs batted in.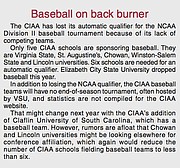 The swift Georgian also leads the team in stolen bases, with 10 swipes in 10 tries.
"Aaron can really swing the bat. He's a line-drive hitter who can also run," said Coach Merrill Morgan.
Harris came to VSU after earning All-County honors at Mount Zion High School and Dutchtown High School in the "Hotlanta" area.
"I grew up a Braves fan, of course, and have been to a lot of their games, both at Turner Field and Sun Trust Park," Harris said.
"But I can't say I was named after Hank Aaron. I come from a very Christian family and got my name from the Bible."
Harris began playing baseball when he was about 5 and was quickly smitten with the bat and glove.
"I played basketball and football, too, but baseball has been my passion," he said.
It helped that his father, Brad Harris, played baseball at Faulkner University in Montgomery, Ala.
One of Harris' high school coaches, Kelcey White, steered the young infielder toward VSU.
"Coach White has ties with Coach Morgan," Harris explained. "I came up for a visit and really liked VSU."
As a freshman in 2016, Harris hit a shade under .300 for the Trojans while also taking his turn on the pitching rubber.
"Aaron's got a good arm and, as a freshman, he threw an entire, 10-inning game for us," said Coach Morgan.
Harris sat out last season to concentrate on academics — he is a health-physical education major — and his physique. He returned to the diamond this spring carrying about 15 more pounds of muscle than as a freshman.
"The weight lifting has made a difference. I'm hitting the ball harder," he said.
Harris opened the season on the bench, but that quickly changed. In the season lid lifter against Salem International University of West Virginia on Feb. 3, a frosty 28-degree day, Harris had the hot bat.
In a pinch-hitting role, he knocked in two runs with a crisp single and VSU went on to win 10-9.
He has been a fixture in Coach Morgan's lineup ever since, generally in the fifth slot.
While Harris' first name and hometown make one think of Hank Aaron, his nickname is actually "A-Rod," after another former big league baseball star, Alex Rodriguez.
"I guess it's because I play third and kind of look like him," said Harris.
With a laugh, he added, "Even my high school principal called me A-Rod."