TJ's Trey Fleming swings with a bat and drumsticks
5/19/2018, 2:40 p.m.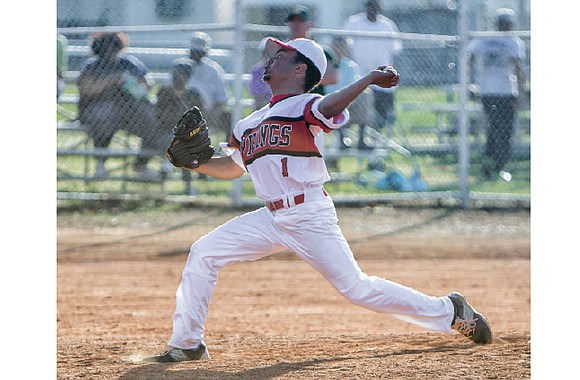 Trey Fleming believes in baseball with a beat.
Two of the Thomas Jefferson High School senior's prized possessions are his bat and his drumsticks.
He's right on time with both.
"Trey can really hit now," said Vikings Coach Harold Henry. "He made All-Conference as a sophomore and junior and he should be honored again."
This season, Fleming has produced video game-type numbers. At last look, the 5-foot-9, 160-pound left-hander was hitting an eye-popping .615 (16-for-26), with 16 runs batted in for an up-trending 9-4 TJ team.
Wearing red and white jersey No. 1, Fleming also ranks No. 1 on the list of hardest Vikings to strike out.
"Trey's only struck out once all year, which is amazing," Coach Henry said, noting Fleming hit .440 a year ago as a junior.
The lean lefty also splits pitching duties with fellow senior Dylan Graham on a squad headed to next week's Region 3B playoffs.
Relying on a crisp fastball and what he calls a "natural curve," Fleming started the week 2-2, with 30 strikeouts in 21 innings on the mound.
Fleming is that rare individual who can be the star of the game and the life of the postgame celebration as well.
An established jazz drummer, he boasts a musical résumé as long as his ball-yard ledger. 
The son of local actor-storyteller J. Ron Fleming and Tracey West, his biggest fan, Fleming traces his formative days of making music – he plays both saxophone and drums—at the Richmond Youth Jazz Guild in Shockoe Bottom under the direction of Ashley Anderson.
He quickly began performing in public at events such as the 2nd Street Festival, Earth Day Richmond and "a lot of other different gigs," he said.
"Trey isn't in our matching band but he's performed at our pep rallies, and he is outstanding," said Dr. Bill Holt, the TJ activities director.
He further polished his percussion craft with a visit last year to the prestigious Berklee College of Music in Boston, a mecca for aspiring jazz musicians worldwide.
Since kindergarten, he has juggled baseball and music.
His baseball background includes playing with the Chamberlayne Association/Babe Ruth League, Richmond Little League/Byrd Park, SCORE and the Metropolitan Junior Baseball League.
He has always worn jersey No. 1 because it's usually the smallest.
"I got No. 1 because it was the smallest one in the box," he recalled. "By the time I got to TJ as an eighth-grade JV (player), I was about 5-foot-2 and 110 pounds, if that."
Again, No. 1 came in size small.
"It was the same deal. I kept No. 1," he recalled.
Fleming attends Open High School but is allowed to play baseball for Thomas Jefferson High, his zone school. He plans to continue his education at Old Dominion University, where he hopes to take a swing at the school's club baseball team.
And as for his well-worn set of drums? That's never going into the closet. The beat will go on wherever he travels.