Teon Tiller turns Thomas Jefferson High into a contender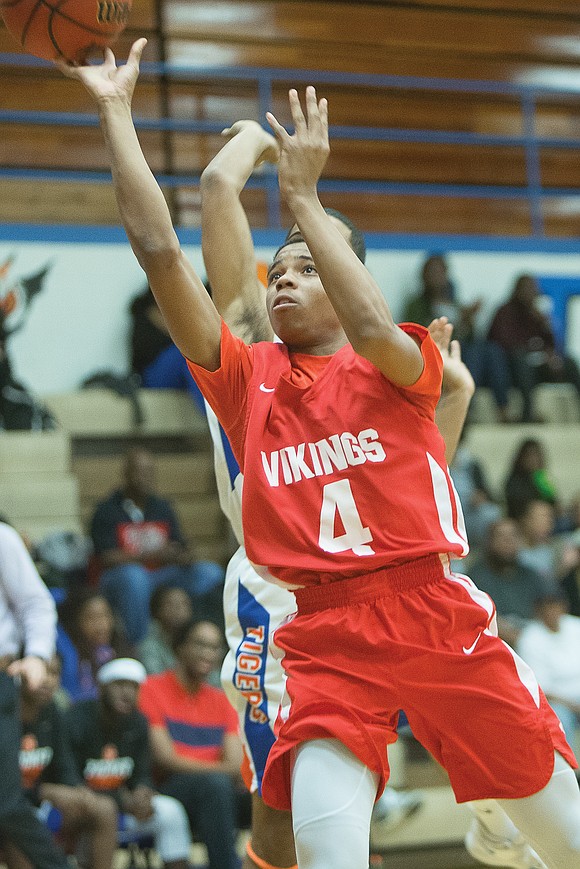 Don't blink.
Blink once if you're guarding Teon Tiller, and the Thomas Jefferson High School senior is likely to whiz past for yet another bucket.
Blink again and he's apt to steal the ball and skedaddle the other way.
It's almost like the hands on his watch are spinning twice as fast as others.
The 5-foot-10, 155-pound whirlwind wearing Thomas Jefferson's cardinal and white colors is in a rush to try and make up for lost time.
Following a junior year derailed by a serious ankle injury that put him in a cast for six weeks, Tiller averages 20 points. On defense, he has made enough steals to draw the attention of local constables.
"He's quick and shifty and can get to the rim anytime he wants," said TJ Coach Kendrick Warren. "And for his size, he's very physical."
You can call him the "Tiny Terror" for his size, or "Neon Teon" for how No. 4 in the Vikings' jersey illuminates a scoreboard. You can also call him, "captain," his official title with the team.
Tiller has had a high of 37 points against King & Queen Central High School and 32 points against Petersburg High School. Also a clever ball handler, Tiller had seven assists in the Vikings' win over Henrico County's Deep Run High School.
His efforts haven't been in vain. The rejuvenated Vikings improved to 13-8 on Jan. 26 with a 75-73 win over Chesterfield County's Manchester High School. It was Thomas Jefferson's fifth straight win.
"After what happened last year when I was hurt, and not knowing if I'd play again, I'm just happy to be back. I want to go out strong, with a championship hopefully," Tiller said.
TJ is eyeing its first winning season since going 15-11 in 2013. Much will depend on Tiller. The fearless Viking is more likely to drive into tall traffic than to settle for jumpers.
"I like to use my quickness to take it to the hoop and draw contact," he said. "I also like to drive and kick it back. The plan is to draw a lot of defensive attention."
Many of his drive 'n' dish passes go to backcourt mate Mo Mahadi, a dangerous 3-point shooter who struck for 24 points against Deep Run High and 23 points against Manchester High School. TJ's top interior threat is 6-foot-2 strongman Elijah Mitchell.
Setting the stage for a banner senior season, Tiller was named MVP of the ASSIST 804 Top 40 camp at Prince George in August. Also last summer, he went on an AAU tour with the Richmond Elite travel outfit and worked summer youth camps at Mary Munford Elementary School and the Chickahominy YMCA.
Tiller is a second-generation Vikings' guard. His dad, Travis Tiller, was a starting TJ backcourt performer in the 1990s.
Teon wears the No. 4 jersey in honor of Kennard Wyche, an All-Metro guard at Armstrong High in 1998. Wyche, who wore No. 4 at Armstrong, and Travis Tiller are close friends. Wyche has been influential in young Tiller's development.
Teon Tiller is more than just a basketball player at TJ. He's also a standout middle infielder, renowned for his speed, for the Vikings' baseball team.
He's a college prospect in both sports, but the focus is on basketball. He has received firm offers from Bluefield State, Livingstone and South Georgia Technical colleges. Others watching include Chowan, Shaw, Hampton and Norfolk State universities.
In the meantime, the Vikings have the look of a region contender. Don't blink. You may miss TJ's star attraction.